Melena's Jubilee: The Story of a Fresh Start (Paperback)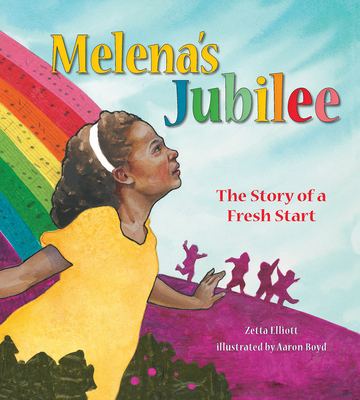 Description
---
Junteenth Celebration

Named to Bank Street College of Education's prestigious 2016 Best Children's Books of the Year with a star for outstanding merit.
Named to Bayviews Outstanding List (online journal for the Association of Children's Librarians of Northern California (ACL))
2017 Skipping Stones Honor Book
After being sent to bed early the previous night, Melena wakes up to a new day with a song in her heart.
Forgive and be forgiven. It sounds so appealing—why doesn't it happen every day? Finding herself forgiven on a rain-scrubbed morning after a difficult day, Melena seizes her fresh start and shares the song in her heart with her family and friends. It's a day of new beginnings. It's Melena's jubilee.
This story introduces children to the concept of jubilee, which stresses the important principles of debt relief, generosity, and forgiveness. Aaron Boyd's mixed-media illustrations are as bright and vivid as a sun-washed day.
"I write predominantly about Black children because I grew up believing I was invisible in the real world, and it hurt just as much to discover that I was also invisible in the realm of the imaginary. I write the books I wish I had had as a child."—Zetta Elliott
About the Author
---
Born in Canada, Zetta Elliott (Brooklyn, NY) moved to the US in 1994 to pursue her PhD in American Studies at NYU. Her poetry has been published in several anthologies, and her plays have been staged in New York, Chicago, and Cleveland. Her essays have appeared in The Huffington Post, School Library Journal, and Publishers Weekly. She is the author of more than twenty books for young readers, including the award-winning picture book Bird. Her urban fantasy novel Ship of Souls was named a Booklist Top Ten Sci-fi/Fantasy Title for Youth. Three books published under her own imprint, Rosetta Press, have been named Best Children's Books of the Year by the Bank Street Center for Children's Literature. Elliott is an advocate for greater diversity and equity in publishing.

Aaron Boyd is the illustrator of 25 children's books including Luigi and the Barefoot Races, Babu's Song, Daddy Goes to Work, and the Panda Goes to School series. His pop-up Storybook Year won a Clio Top 4 award and was inducted into the Smithsonian Rare Books collection. He has also received Children's Africana Book, Choices Sports, Notable Children's Book, and Hermes Creative awards, and his advertising graphics have received Addy Gold and Graphis awards.
Praise For…
---
Elliott (Bird) weaves a contemplative and thought-provoking
story of new beginnings as a brown-skinned girl named Melena wakes up
"with a song in my heart." ...Befitting the sense of grace that Melena
clings to, Boyd's (Luigi and the Barefoot Races) vibrant
mixed-media images evoke the heft and poise of stained glass windows,
whether showing Melena and her elders picking garden vegetables or the
girl and her friends perched on the jungle gym, gazing at swirling
clouds. An extensive author's note delves into the historical concept of
jubilee and ties the book's messages to grassroots activism, social
justice, and community self-improvement. Ages 4–10. (Oct.)
— PW

Little Melena learns the power of a fresh start... In Melena, Elliott creates a thoughtful, upbeat character whose impulses are convincingly childlike. In between her musings on fresh starts, she plays with her friends (a multiracial group) and helps her grandmother harvest lunch from the garden...Boyd's bright, multimedia illustrations depict a warm, loving family and a cheery urban neighborhood. An author's note provides context on the concept of jubilee—forgiveness—and tips for readers on making their own fresh starts. This cheerful meditation on starting over features a character that's hard not to love. (Picture book. 4-7)
— Kirkus Reviews

This is a great reminder to children of the joys that kindness, generosity, and grace can bring to you. Instead of forcing her way through the day, Melena considers others first and treats the day as a fresh start, putting all her problems from yesterday behind her. Recommended for one-on-one reading with older pre-readers, or for independent reading for young readers. The seven tips to your own Fresh Start Day are a nice addition, as is the author's note on the significance of the concept of jubilee in African-American history and the importance of debt relief to struggling peoples and nations.
— Jessica Rodrigues - Net Galley

Melena awakes to a beautiful day with the feeling of new possibilities in her heart. The day before, one of Gramma's friends tripped over toys Melena forgot to put away, and the fall caused her mother's vase to break. On this morning, Melena puts her toys away, makes her bed, and chooses peace and kindness—she doesn't hit her brother with a pillow and doesn't ask for money she had lent out the previous week.Instead, she shares what she has and looks for ways to enjoy the things that are sometimes taken for granted. Colorful, collage like illustrations of brown-skinned Melena and her friends and family appear in rich, saturated tones and bright backgrounds, evoking the sunshiney atmosphere of the story. An author's note provides some additional background about the history of the Day of Jubilee and its importance to the African American community. Young readers might be moved to consider a more positive outlook after reading about Melena's kind choices and reflect on her wisdom as she appreciates the day from the start.

— Selenia Paz - Booklist

This book is so nice. It is happy because
Melena is happy about what she has, and she makes good choices and thinks about
other people. She decides not to be rude, like she knows she can hurt her
brother but decides not to, and then she feels really good about doing good
things. You will like reading about how Melena has a fresh start. You can have
a fresh start every day, too!
— Liesel, Age 5 - Kids Book Buzz