Monument Maker: Daniel Chester French and the Lincoln Memorial (The History Makers Series) (Hardcover)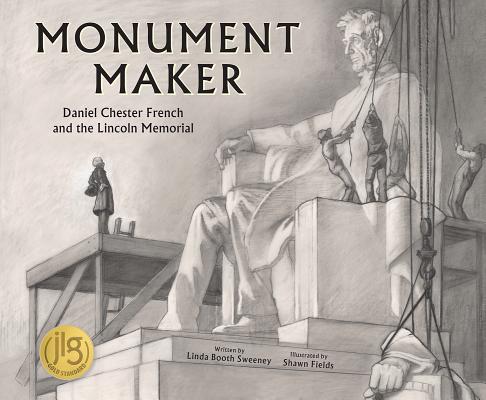 $29.95

Special Order - may be out of print
Description
---
Named to the Bank Street College Best Children's Books of the Year for 2020

20th Annual Massachusetts Book Awards "Must Reads": A Must-Read Picture Book

CYBILS Award short list
When Abraham Lincoln was assassinated in 1865, fifteen-year-old Dan French had no way to know that one day his tribute to the great president would transform a plot of Washington, DC marshland into America's gathering place. He did not even know that a sculptor was something to be. He only knew that he liked making things with his hands.
This is the story of how a farmboy became America's foremost sculptor. After failing at academics, Dan was working the family farm when he idly carved a turnip into a frog and discovered what he was meant to do. Sweeney's swift prose and Fields's evocative illustrations capture the single-minded determination with which Dan taught himself to sculpt and launched his career with the famous Minuteman Statue in his hometown of Concord, Massachusetts.  
This is also the story of the Lincoln Memorial, French's culminating masterpiece. Thanks to this lovingly created tribute to the towering leader of Dan's youth, Abraham Lincoln lives on as the man of marble, his craggy face and careworn gaze reminding millions of seekers what America can be. Dan's statue is no lifeless figure, but a powerful, vital touchstone of a nation's ideals. Now Dan French has his tribute too, in this exquisite biography that brings history to life for young readers.
About the Author
---
Linda Booth Sweeney is an accomplished writer and an educator specializing in the exploration of living systems.

Shawn Fields studied art at the School of Visual Arts, the Arts Student's League, and the New York Academy of Art. His work has been exhibited at ArtBasel Miami, Forbes Gallery NYC, Arcadia NYC, and is collected worldwide.
Praise For…
---
Booklist Starred Review
The book's broad pages offer plenty of space for the lucid main text and lively illustrations, which work together well. The writing features vignettes such as a memorable account of a turnip-carving experience that revealed French's aptitude for sculpture as well as an informative account of the Lincoln Memorial project, its central statue, and its place in American life.Strong, graceful, and expressive, Fields' artwork captures the period setting while making even unnamed people look like individuals. Though color is used here and there, most of the illustrations are large,beautiful crosshatched pen-and-ink drawings in black and white. Appended information, notes, and photos conclude this engaging tribute to French and the Lincoln Memorial.
— Carolyn Phelan - Booklist
Linda Booth Sweeney is a truly great author and Shawn Fields her uniquely talented partner in crime. Together, they've turned something as seemingly mundane as the act of creating the Lincoln Memorial into a true work of American history. It acknowledges the good, the bad, and the complicated. It makes no excuses, just hands over the facts. It avoids almost all fake dialogue and accounts for direct quotes in its backmatter. It's a delight to read and remember. This marvelous book is deserving of your love.
— Elizabeth Bird - School Library Journal Blog, FUSE8Production
The environment that nurtured Daniel Chester French is given loving treatment by Sweeney and Fields.
Both bracing and winning, a fine tribute to the sculptor and his world.
(Picture book biography. 8-12) 
— Kirkus Reviews
• To whom would you recommend this book? Students who are interested in art will find this interesting.

• Anything you didn't like about it? No. It's beautifully illustrated and inspiring!

• Who should buy this book? Elementary and middle school libraries

• Where would you shelve it? nonfiction



— Laura Gardner, Dartmouth Middle School, Dartmouth, MAhttps://ysbookreviews.wordpress.com/2019/07/25/monument-maker-daniel-chester-french-and-the-lincoln-memorial-linda-booth-sweeney-illustrated-by-sha - Youth Services Book Review
This new release book is the perfect history lesson and fascinating biography of Daniel Chester French,
the sculptor who created the Lincoln Memorial. Daniel was just a farm
boy until creation of the Lincoln Memorial, so perhaps your children
know of the memorial but do they know Daniel Chester French? Dan taught himself to sculpt and launched his career with the famous Minuteman Statue
in his hometown of Concord, Massachusetts.  Now history, of a man
assassinated, lives on with a rich history non-fiction story for
children and how you never know when your gift will become something
this amazing. After all, he was just sculpting for the love of sculpting
and had no idea his masterpiece would become such a national tribute
visited by so many to come.
— Erin Sluka - Parenting Healthy
VERDICT A good, simple biography on a lesser-known creator of a very famous landmark.
— Elizabeth Nicolai, Anchorage Public Library, AK - School Library Journal