Roundup at the Palace (Paperback)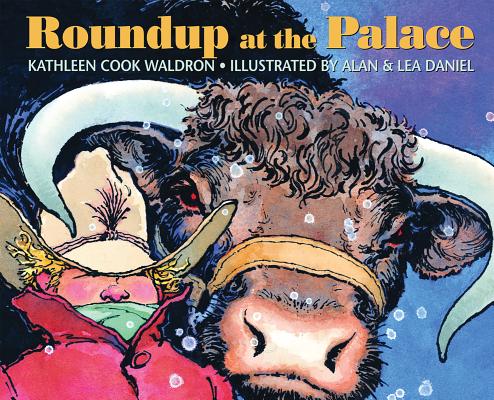 $9.95

Special Order - may be out of print
Description
---
Canadian Children's Book Centre Our Choice, 2007
Buster the Bull makes his getaway in a blizzard, and it's up to Zack to save the Brown Palace Hotel gift shop - and his new friend Alice.
Zack wrapped his arms around the huge bull's neck. Don't worry, Zack said, swallowing hard. No busy city or world famous Stock Show can scare us. Right?
Zack is looking forward to taking Buster the bull to the National Western Stock Show in Denver. As Zack and his dad sing their way down the road, Buster the bull doesn't find his first trip away from the ranch much fun. When the snow turns into a blinding blizzard and Zack's dad must detour through downtown, Buster sees his chance to make his own hay. Thundering out of the truck, Buster gallops straight through the doors of the Brown Palace Hotel where, he confronts Alice, who works with her mother in the hotel gift shop. Zack must act quickly to save his new friend Alice and Buster from disaster.
Kathleen Cook Waldron's lively story of a boy and his bull is complemented by the rich and vibrant painting by Alan and Lea Daniel, who capture the drama and triumph of the Round-up at the Palace.
About the Author
---
Kathleen Cook Waldron was born and raised in Denver, Colorado. After teaching in Colorado's bilingual and summer migrant schools, Kathleen and her family moved to the Cariboo area of British Columbia. Inspired by The Secret Garden, MAD magazine and Spiderman comics, Kathleen is the author several critically acclaimed children's picture books including A Wilderness Passover (Red Deer Press, 1994) and A Winter's Yarn (Red Deer Press, 1986) Alan Daniel works for publishers across North America from his Kitchener, Ontario, studio. His art is notable for its fine draftsmanship, humor and versatility of style. He is the illustrator of many children's picture books, including Bunnicula: Return to Howliday Inn, Good Families Don't, The Grand Escape, The Healing of Texas Juke and Carlotta's Kittens. Alan Daniel often collaborates with partner Lea Daniel. Lea Daniel has collaborated with her partner Alan Daniel on 23 books in the Songbox Series as well as My Home Bay, The Best Figure Skater in the Whole World and Sody Salleratus, which earned them the Mr. Christie Book Award. Lea is the author of Drummer and Finnger's War and has two short plays produced.