Save the Cat! Goes to the Indies: The Screenwriters Guide to 50 Films from the Masters (Paperback)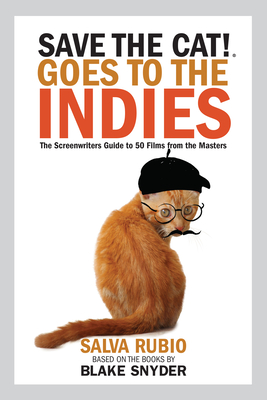 $21.95

usually available in 3-7 days
Description
---
In his best-selling book, Save the Cat (R) Goes to the Movies, Blake Snyder provided 50 "beat sheets" to 50 films, mostly studio-made. Now his student, Salva Rubio, applies Blake's principles to 50 celebrated non-studio films (again with 5 beat sheets for each of Blake's 10 genres).

From international sensations like The Blair Witch Project topromising debuts like Pi, from small films that acquired cult status like Texas Chain Saw Massacre to Euro-blockbusters like The Full Monty, from unexpected gems like Before Sunrise to textbook classics such as The 400 Blows, from Dogville to Drive and Boogie Nights to Cinema Paradiso, here are 50 movies that fit both the "independent" label and Blake Snyder's 15 beats.

You'll find beat sheets for works from Quentin Tarantino, Steven Soderbergh, David Lynch, Roman Polanski, Danny Boyle, David Mamet, Spike Jonze, Charlie Kaufman, Sofia Coppola, Stephen Frears, David Hare, Stanley Kubrick, Woody Allen, Wes Anderson, and the Coen Brothers, among other renowned writers and directors.

You'll see how "hitting the beats" creates a story that resonates for audiences the world over.

Why is this important? Because it gives both writers and moviegoers a language to analyze film and understand how filmmakers can effectively reach audiences.

​And especially if you are a writer, this book reveals how screenwriters who came before you tackled the same challenges you are facing with the film you want to write -- or the one you are currently working on.