The Hidden Journals: Captain Vancouver & His Mapmaker (Paperback)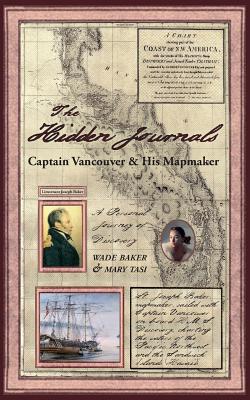 $20.00

usually available in 3-7 days
(This is a special order book which cannot be returned.)
Description
---
HIstory turns into mystery when the authors begin to research the oral stories about Wade Baker's ancestor, Third Lieutenant Joseph Baker, mapmaker on HMS Discovery. from 1791 to 1795. Memories from Grannie Lizzie and other Coast Salish and Hawaiian elders lead to authentic stories about Captain Vancouver, and his officer's relationships with Kings, Queens and royal families in their kingdoms in North America and Hawaii.
When Wade and Mary started their research, they did not realize how extensively this important piece of Pacific West Coast history had been airbrushed from the records. Over eight years of investigation with several museums around the world as well as many conversations and interviews with Maui and Vancouver cultural elders, uncover a very different Captain Vancouver than the man portrayed in mainstream history. Stories revealed about the respectful social and trading interactions with the native peoples are compelling. moving. and insightful. The book includes many photos of knowledge keepers, as well as protocols around chieftanships as Wade Baker's late mother Emily Nelson Baker was a four copper chieftain. Maps and detailed "observations of the day" from log books and journals are included with permission from the various museums consulted. A Chapter on Captain Cook gives an alternate and indigenous version of events. Captain Vancouver was a young midshipman on the ship, and was a witness to the events that shaped his character for future voyages.
The authors were honoured to meet the British descendants of Lt. Baker in 2017, and a new epilogue from 2018 details the meeting and reconciliation that occurred.
The Hidden Journals will forever change how you think about the indigenous people and their history, and brings understanding to the profound effects that the later historical distortions of those times had on the subconscious beliefs we carry today. The 1790's to the early 1800's was a time of high-level friendships between cultures, and an era of spiritual and mystical values about the land, water and sky. This open-hearted adventure is an inspiration for these times, and a call to the reader to pick up the torch and continue their own journeys of discovery.
The book was chosen for an Honourable Mention at the Whistler Independent Author's Festival Awards, and the authors were interviewed by Shelagh Rogers at CBC Radio for The Next Chapter series.