The Populist Explosion: How the Great Recession Transformed American and European Politics (Paperback)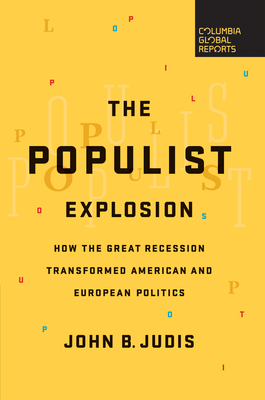 $12.99

Special Order - may be out of print
Description
---
What's happening in global politics, and is there a thread that ties it all together?
There is, and it is called populism.
What is populism? And why have populist parties and candidates suddenly sprung up and even gained power in the United States and Western Europe? The emergence of Bernie Sanders and Donald Trump, France's Marine LePen, Podemos in Spain, Syriza in Greece, and the Alternative for Germany are signs that an older consensus about politics and government is breaking down. John B. Judis, one of America's most respected political analysts, tells us why we need to understand the populist movement that began in the United States in the 1890s and whose politics have recurred on both sides of the Atlantic ever since. The Populist Explosion is essential reading for anyone hoping to grasp a global political system that is only just beginning what will be a long-running and highly consequential readjustment.
About the Author
---
John B. Judis was a senior editor of "The New Republic" and recently a senior writer for "The National Journal." He is the author of six books, including "Genesis: Truman, American Jews, and the Origin of the Arab-Israeli Conflict" (Farrar, Straus & Giroux, 2014), "The Folly of Empire: What George W. Bush Could Learn from Theodore Roosevelt and Woodrow Wilson" (Scribner, 2004), "The Emerging Democratic Majority" with Ruy Teixeira (Scribner, 2002), and "The Paradox of American Democracy: Elites, Special Interests, and Betrayal of Public Trust" (Pantheon, 2000). He has written for numerous publications, including "The New York Times Magazine," "Mother Jones," and "The Washington Post." Born in Chicago, he received his B.A. and M.A. degrees in Philosophy from the University of California Berkeley. He lives in Silver Spring, MD.