Those Wild Wyndhams: Three Sisters at the Heart of Power (Paperback)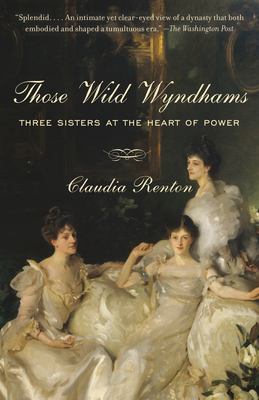 Description
---
The three dazzlingly beautiful, wildly rich Wyndham sisters led complex, idiosyncratic lives at the center of cultural and political life in late-Victorian and Edwardian Britain.

The Wyndham sisters--Mary, Madeline, and Pamela--were confidantes to British prime ministers, poets, writers, and artists, their lives entwined with the most celebrated and scandalous figures of the day, from Oscar Wilde to Henry James. They were the lovers and wives of great and prominent men and lived in a world of luxurious excess, raised with a fierce belief that their family was exceptional. They avoided the norm at all costs and led the way to a blending of aristocracy and art. Their group came to be called The Souls, whose members from 1885 to the 1920s included the most distinguished politicians, artists, and thinkers of their time. In Those Wild Wyndhams, Claudia Renton gives us a dazzling portrait of one of England's grandest families, capturing the tragedy that befell them as the privilege and bliss of the Victorian age gave way to the Edwardian era, the Great War, and the passing of an opulent world.
About the Author
---
CLAUDIA RENTON graduated from Trinity College, Oxford, with a First in History; she was awarded the Gibbs Book Prize for History. Before becoming a barrister, Renton was an actress in television and theater. Those Wild Wyndhams was awarded the Slightly Foxed Best First Biography Prize. She lives in London with her husband and son.
Praise For…
---
"Renton brings the subjects of John Singer Sargent's famous painting The Wyndham Sisters vividly to life in this captivating collective biography. Beautiful, intelligent, witty, and liberated for their time and place, this charming trio collectively defied Victorian and Edwardian conventions." —Booklist

 "Renton's nimble touch never fails. . . . Her portrait, no less than Sargent's, is a triumph of observation, insight, and erudition ... Renton's descriptions are as evocative as they are informative." —The Washington Post
 
"Wonderful. . . . A magnificently skillful biography of this trio of sexy sisters and the politically turbulent context of their lives. Renton demonstrates her scholarship with butterfly-winged elegance as she tells the story of a generation of Imperialist Victorians Suffused with privilege, power, money and sex that eventually ended in tragedy." —Evening Standard (UK)

"Renton never loses sight of the bigger historical picture. She sets the sisters' fabulously privileged and sometimes troubled lives against the convulsions of home and international politics through which they lived. The result is an impeccably researched, beautifully written and compellingly readable biography." —Daily Mail (UK)

"An accomplished literary debut, a spirited and captivating history of the lives and loves of aristocrats in Victorian/Edwardian Britain. . . . Richly detailed. . . . A sparkling family portrait and riveting history." —Kirkus
 
"Mesmerizing. . . . The exploits of the fictional Crawley sisters of the PBS series Downton Abbey pale in comparison to the colorful, often scandalous lives led by the real Wyndham siblings as recounted by first-time author Renton in this captivating biography." —Library Journal