Lucky Per: Introduction by Garth Risk Hallberg (Everyman's Library Contemporary Classics Series) (Hardcover)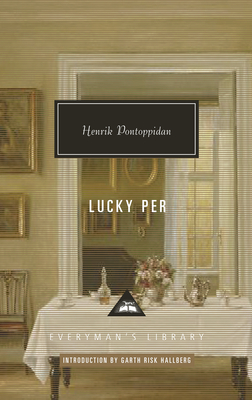 Staff Reviews
---
What a discovery! 
Written in 1904, this is the story of Peter "Per" Sidenius, the rebellious son of a strict Danish clergyman, and his enthusiastic quest to find happiness.  Filled with unforgettable characters, such as the entire Saloman family, and especially the heroic eldest daughter, Jacobe, this is a novel you won't want to end.
However, the ending is perfect!
Pontopiddan was awarded the Nobel Prize for Literature in 1917.
— John
Description
---
A true neglected classic, this sweeping 1904 novel is a Modernist masterpiece and arguably "the great Danish novel"-- but is only newly available in English.

Lucky Per is a bildungsroman about the ambitious son of a clergyman who rejects his faith and flees his restricted life in the Danish countryside for the capital city. Per is a gifted young man who arrives in Copenhagen believing that "you had to hunt down luck as if it were a wild creature, a crooked-fanged beast . . . and capture and bind it." Per's love interest, a Jewish heiress, is both the strongest character in the book and one of the greatest Jewish heroines of European literature. Per becomes obsessed with a grand engineering scheme that he believes will reshape both Denmark's landscape and its minor place in the world; eventually, both his personal and his career ambitions come to grief. At its heart, the story revolves around the question of the relationship of "luck" to "happiness" (the Danish word in the title can have both meanings), a relationship Per comes to see differently by the end of his life.
About the Author
---
HENRIK PONTOPPIDAN (1857-1943) was a Danish novelist who won the Nobel Prize for Literature in 1917 for "his authentic descriptions of present-day life in Denmark." The son of a rural minister, he moved to Copenhagen as a young man and eventually earned his living as a journalist and writer. He is best known for the sweeping social novels he wrote between 1890 and the 1920s, which "reflect the social, religious, and political struggles of the time."
Praise For…
---
"This sprawling saga of one Dane's life also succeeds as an epochal portrait of noisy, pluralistic, turn-of-the-20th-century Europe." --Publishers Weekly

"[Pontoppidan is] a full-blooded storyteller who scrutinizes our lives and society so intensely that he ranks within the highest class of European writers . . . He judges the times and then, as a true poet, points us towards a purer, more honorable way of being human." —Thomas Mann
 
"What startled its contemporaries about this strange novel was . . . the sense of something new, one of those as yet unnamed and perhaps unnameable psychic discoveries for which the novelists of the period—from Dostoevsky to James—desperately searched . . . This turns out to have been the novel's project . . . to modify our sense of what luck or happiness means." 
—Fredric Jameson, LONDON REVIEW OF BOOKS
 
"Henrik Pontoppidan rules over the province of Danish letters with a grey-bearded authority akin to Leo Tolstoy's or Henry James's . . . [LUCKY PER is] one of the great novels about modernity . . . [It] breathes the excited, tempestuous air of its time, but it often feels strikingly modern." —THE NEW YORK REVIEW OF BOOKS
 
"This novel, with its relentless probing for what lies beyond our blind spots, will leave standing no final protection from the human truth: not class, not learning, not ideology, and in these moments when a character grows strong enough to drop her blinders and simply see, as the novelist sees, Lucky Per becomes not just great, but prophetic." —from the Introduction by Garth Risk Hallberg