Everything in Its Place: First Loves and Last Tales (Paperback)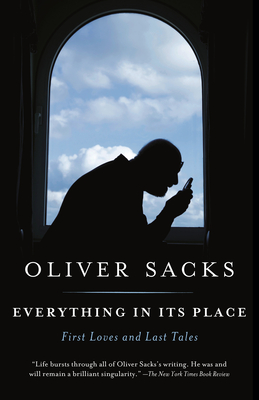 $16.95

usually available in 3-5 business days
Description
---
From the best-selling author of Gratitude and On the Move, a final volume of essays that showcase Sacks's broad range of interests—from his passion for ferns, swimming, and horsetails, to his final case histories exploring schizophrenia, dementia, and Alzheimer's.

Oliver Sacks, scientist and storyteller, is beloved by readers for his neurological case histories and his fascination and familiarity with human behavior at its most unexpected and unfamiliar. Everything in Its Place is a celebration of Sacks's myriad interests, told with his characteristic compassion and erudition, and in his luminous prose.
About the Author
---
Dr. Oliver Sacks spent more than fifty years working as a neurologist and writing books about the neurological predicaments and conditions of his patients, including The Man Who Mistook His Wife for a Hat, Musicophilia, and Hallucinations. The New York Times referred to him as "the poet laureate of medicine," and over the years, he received many awards, including honors from the Guggenheim Foundation, the National Science Foundation, the American Academy of Arts and Letters, the American Academy of Arts and Sciences, and the Royal College of Physicians. His memoir, On the Move, was published shortly before his death in August 2015.
Praise For…
---
"Wonderfully odd . . . Life bursts through all of Oliver Sacks's writing. He was and will remain a brilliant singularity. It's hard to call to mind one dull passage in his work—one dull sentence, for that matter . . ."—Daniel Menaker, The New York Times Book Review

"Magical . . . [Everything in Its Place] showcases the neurologist's infinitely curious mind."—People Magazine

"Extraordinarily touching—not lacking in his habitual energy and driven curiosity, but somehow vulnerable, even fragile . . . [He was] an unusual boy, one who had, as he puts it, an "overwhelming sense of Truth and Beauty" . . . and it becomes increasingly clear that Sacks was that boy to the very end of his days, engaging, eagerly and with a never-ending sense of wonder, not only with science but with its history and the people who made it . . . Our best chance for the future, we may feel, is that there may be others among us like this uncommon, passionate, and enlightened man . . ."—Simon Callow, The New York Review of Books

"Eclectic and satisfying . . . Informative and engaging . . . Sacks writes with his characteristic compassion and attention to detail. . . This final posthumous collection provides one last peek into the author's generous, curious, and brilliant mind."—Library Journal

"Sacks further secures his legacy with this most recent collection of his work . . . The Shakespeare of science writing might suffice, but Sacks ultimately defies comparison to bygone or even contemporary authors. As readers we can rejoice that, while cancer may have claimed his body, his voice continues to ring out."—The Scientist

"Everything in Its Place is a wondrous read in its entirety, irradiating Sacks's kaleidoscopic curiosity across subjects. . ."—Maria Popova, Brain Pickings

"A fitting coda to an exemplary literary and medical career, displaying the essential humanity and spaciousness of mind that his readers have long come to expect . . . with a voice, breadth of curiosity and kinship with life all his own . . . passionate . . . [and] engrossing . . . [Sacks] will be keenly missed, not only for the elegance and potency of his writing, but for his critically important championing of science in an age of science denial . . . Warm, edifying, highly personal essays."—The Charleston Post and Courier

"If you are not already familiar with the writing of Oliver Sacks, this volume is a lovely way to acquaint yourself with it . . . Sacks is a humanist author, one who has an amazing capacity to inspire awe and reawaken the reader to the beauty of the smallest and often most unforgotten, disenfranchised aspects of life on earth. Above all, his greatest strength is how he skillfully allows the non-specialist to deeply delve into the field of neurological study. He is an author with a sense of constant questioning and bewilderment at the complexity of human existence. His writing is beautifully crafted and profound."—New York Journal of Books

"It's not hard to see why Oliver Sacks captivated the world . . . Without waiting for the evidence to come in, you know that a better book of essays—one that is funnier and sneakier and more grave—will certainly not be published this year."—The Saturday Paper

"A postscript to a brilliant career . . . full of curiosity and awe . . . Whether discussing botany or the intricacies of the brain, Sacks writes with the natural candor and wisdom of a great teacher. Everything in Its Place is his thoroughly illuminating last word. He will be missed."—Shelf Awareness

"As polished and as intimately voiced—the author seems our bosom friend far more than an 'authority'—as Sacks is at his best . . . each [chapter] is impossible to put down unfinished . . . Anglo-American literature has boasted an astonishing number of excellent writing physicians and scientists. Consider Oliver Sacks their dean."—Booklist [starred]

"In this lovely collection of previously unpublished essays, the late, celebrated author and neurologist muses on his career, his youth, the mental health field and much more. . . Sacks's gentle, ruminative voice is a salve when investigating difficult subject matter but there are plenty of lighter moments as well. . . [this] final collection is a treat for the chronically curious."—Publisher's Weekly

"A reminder of the breadth of his professional expertise and the depth of his personal passions . . . all the essays collected here are a fitting valedictory to Oliver Sacks' fascinating life."—BookPage

"[Oliver Sacks] never fails to captivate me even if they are far from my own passions . . . If you love fascinating tidbits, this book of uncollected or previously unpublished essays is for you . . ."—The Minneapolis Star Tribune