The Heart Broke In: A Novel (Paperback)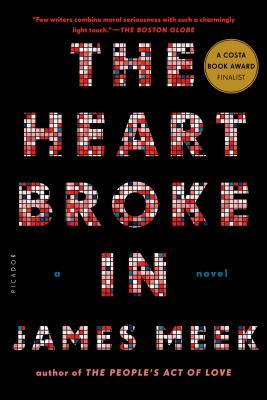 $27.00

usually available in 3-5 business days
Staff Reviews
---
 One of my three favorite novels published in 2012, this is the story
of scientist Bec
(Rebecca) Shepherd and her aging, rock-n-roller brother Ritchie.
Both carry
secrets concerning their father, a British solider who was killed
when they were
kids. The story follows Bec as she travels back and forth from
London to Africa searching
for a malaria cure. Along the way she meets Alex another scientist,
Dickensian and
delightful.
James Meeks writes short, beautifully composed chapters in elegant
prose. He also
creates realistic interactions with his characters. His plot is
intricate and satisfying with
clever twists, surprises, and betrayals. There are also a lot of
laughs, especially involving
the wonderful Alex and his pursuit of Bec.
~John
Description
---
A RICHLY IMAGINED NOVEL OF FAMILY, LOVE AND SCIENCE SET IN MODERN-DAY LONDON, FROM THE INTERNATIONALLY BESTSELLING AUTHOR OF THE PEOPLE'S ACT OF LOVE

Ritchie Shepherd, aging former pop star and wildly successful producer of a reality teen talent show, is starting to trip over the intricacy of his own lies. Gallingly, his sister, Bec, a scientist developing a crucial vaccine, is as addicted to truth-telling as Ritchie is to falsehood. Ritchie relies on her certitude even as he seethes with resentment. A devastating chain of events is set into motion when Bec tells her fiancé, Val, a powerful tabloid editor, that she can't bring herself to marry him after all. Furious, he sets into motion an elaborate revenge plot intended to destroy Bec by exposing the people who are close to her.
A bighearted epic in the manner of Tolstoy, James Meek's The Heart Broke In is also as shrewd, starkly funny, and of-the-moment as Jonathan Franzen's Freedom or Jeffrey Eugenides's The Marriage Plot. Most of all, it is a staggeringly good read, fiction with the reverberating resonance of truth.
About the Author
---
James Meek is an award-winning writer whose novels include The People's Act of Love and We Are Now Beginning Our Descent. He lives in London.
Praise For…
---
"Few writers combine moral seriousness with such a charmingly light touch." —The Boston Globe
"[The Heart Broke In is] a novel to sink yourself into on a Sunday afternoon, disappearing into the characters' lives and worries and wants, and learning a little about immorality and immortality (the words are cousins), both thoughtfully explored." —The Seattle Times
"Sex, fame, family, mortality: Meek (The People's Act of Love) grabs major themes with both hands in his latest, a dazzlingly drawn modern saga." —Entertainment Weekly
"You have to admire the scope and ambition of this operatic saga." —The Guardian (London)