James Herriot's Dog Stories: Warm and Wonderful Stories About the Animals Herriot Loves Best (Paperback)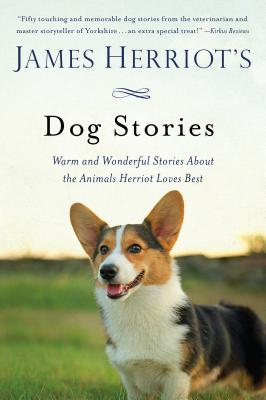 Description
---
James Herriot's Dog Stories is a perfect gift that celebrates the unconditional, loving friendships between people and dogs.

In this very special, heart-warming collection of favorite stories about dogs great and small, James Herriot tells us about his own dogs and all the wonderful people and animals we have come to love so much.

Fifty memorable tales move us to both laughter and tears, and Herriot's personal introduction and notes make this tribute by a master storyteller to man's best friend a book to read, reread, and be treasured for years to come.
About the Author
---
James Herriot (1916-1995) was the bestselling author of memoirs including All Creatures Great and Small, All Things Bright and Beautiful, All Things Wise and Wonderful, The Lord God Made Them All, and Every Living Thing. At age 23, Herriot qualified for veterinary practice with the Glasgow Veterinary College, and moved to the town of Thirsk in Yorkshire to work in a rural practice. He would live in, work in, and write about the region for the rest of his life. Though he dreamed for years of writing a book, his veterinary work and his family kept him busy, and he did not start writing until the age of 50. In 1979, he was awarded the title Order of the British Empire (OBE). His veterinary practice in Yorkshire, England, is now tended by his son, Jim Wight.
Praise For…
---
"James Herriot found a gentle, wise and often humorous way to write about animals and to evoke a beautiful but fading way of life in those Yorkshire Hills. He showed me how to focus not just on the animals, but on the people who lived with the animals, and their loving, sometimes difficult and very wonderful connections with one another. While he is known for his wonderful writing about animals, I often think of his ability to capture people. From the first, I've tried to capture that feeling, that uplifting and heartwarming style. I can't say that I have ever quite matched the writing of James Herriot, but he has always inspired me and given me something to aim for. He often makes me smile, sometimes makes me cry, you can't really ask more from a writer than that." —Jon Katz, New York Times bestselling author of Second Chance Dog, A Dog Year, A Good Dog, and many others

"I recall reading All Creatures Great and Small many years ago, while working as a veterinary technician for a mobile vet in Los Angeles. We worked with cats and dogs, of course, but with farm animals, too, and apes and monkeys and angry pet raccoons, burros, crows, macaws– the variety of pets in Los Angeles was limitless. During that wonderful time, I'd be beaten senseless by a kangaroo, held hostage by a love-struck chimpanzee, chased by angry hogs, and sat on by a miniature horse inside of a well-known celebrity's home. It was a magical time, and it made perfect sense for me to read Herriot in the evenings, a grand fellow who'd roam the English countryside making veterinary house calls, effortlessly moving from draft horses to kittens, healing, telling stories. I felt a kinship with him and his magical world, and marveled at his talent for drawing me into his cast of characters. Later in life, when I too would write of my experiences with animals and their people, I would hearken to Herriot's Yorkshire Dales, and to prose so genuine that it would help inspire my own career as a writer and pet behaviorist. Herriot to me remains a superhero of sorts, who, in visiting home after home like some veterinary Santa, taught me how simple, heartwarming prose about people and their animals could rise above the commonplace, and become art." —Steve Duno, author of Last Dog on the Hill, The Everything Cat Book and The Amazing Dog Trick Book

"Fifty touching and memorable dog stories from the veterinarian and master storyteller of Yorkshire... an extra special treat!" —Kirkus Reviews

"Herriot's real gift lies in keeping us intrigued with his human and dog characters...Herriot teaches us how unpredictable and joyous life can be." —San Francisco Chronicle

"[Herriot has the] ability to touch readers with his stories of pets and their eccentric owners and to bring them into the harshly beautiful world of the Yorkshire dales." —Chicago Tribune

"His message is affectionate, and his four-footed creatures are irresistible." —Time