Listen to the Moon (Paperback)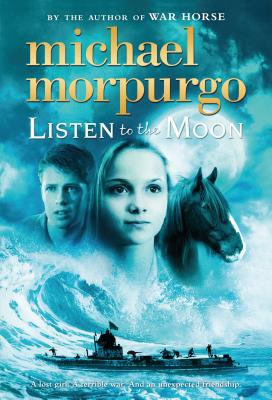 $15.99

Special Order - may be out of print
Description
---
Alfie lives off the coast of England. Merry lives in New York City. Until Merry and her mother set sail on the Lusitania for England, where Merry's father is recuperating from a war injury. People told them not to go, hearing rumors that the Lusitania might be carrying munitions. But they are desperate to be reunited with Merry's father.

Alfie and his father find a lost girl in an abandoned house on a small island. The girl doesn't speak, except to say what sounds like "Lucy." Alfie's mother nurses her back to health. The others in the village suspect the unthinkable: Lucy is actually German—an enemy—because she's found with a blanket with a German tag.

Told from Alfie and Merry's points of view, this exquisite novel tells of friends, enemies, and unexpected kindnesses.

Listen to the Moon by Michael Morpurgo is war story and a tragic sea ship story, inspired by the sinking of the Lusitania during World War I.
About the Author
---
Michael Morpurgo OBE, is an English author, poet, playwright and librettist, best known for his work in children's literature. He was the third Children's Laureate. He has written over 120 books, and has been published in over 25 languages. His children's novel War Horse has been adapted for stage where it became a smash-hit success in the UK, before transferring to Broadway and Toronto. War Horse has also been adapted for screen, directed by Steven Spielberg and released in 2012.
Praise For…
---
"It is Morpurgo's finely woven tapestry of community, trust, endurance, and unconditional family love that keep the Lusitania best remembered." —Booklist, starred review

"Morpurgo returns to the World War I of his much-lauded War Horse in a beautifully crafted, multivoiced novel about the sinking of the Lusitania, the strength of family bonds, the vicissitudes of memory, and the fear and bigotry of neighbors. . . . A poignant and life-affirming story from a master." —Kirkus Reviews, starred review

"This is a superbly written, gripping novel of friendship, family, healing, and war . . . one of Morpurgo's best works to date." —School Library Journal, starred review

"Morpurgo offers powerful descriptions of shipwrecks, mass drowning, and devastation, as well as healing and growth." —Publisher's Weekly

"This is a very satisfying read with important and timeless lessons about community, family, tolerance, and courage. This is historical fiction at its best." —Children's Literature