Ready to Fall (Paperback)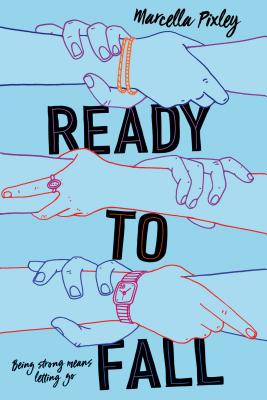 $10.99
Special Order - may be out of print
Description
---
A young adult novel about a teen who finds hope and a fresh start after a terrible loss, and learns that being strong means letting go
When Max Friedman's mother dies of cancer, instead of facing his loss, Max imagines that her tumor has taken up residence in his brain. It's a terrible tenant--isolating him from family, distracting him in school, and taunting him mercilessly about his manhood. With the tumor in charge, Max implodes, slipping farther and farther away from reality.
Finally, Max is sent to the artsy, off-beat Baldwin School to regain his footing. He joins a group of theater misfits in a steam-punk production of Hamlet where he becomes friends with Fish, a girl with pink hair and a troubled past, and The Monk, an edgy upperclassman who refuses to let go of the things he loves. For a while, Max almost feels happy. But his tumor is always lurking in the wings--until one night it knocks him down and Max is forced to face the truth, not just about the tumor, but about how hard it is to let go of the past.
At turns lyrical, haunting, and triumphant, Ready to Fall is a story of grief, love, rebellion and starting fresh from acclaimed author Marcella Pixley.
Praise for Ready to Fall
"Lyrical prose, fresh and compelling images, and unforgettable characters create an experience that will stay with readers far past the last page. Grief becomes something oddly beautiful--and beautifully odd." --Kirkus Reviews, starred review
"Pixley uses the school production of Hamlet and the theater milieu effectively--the book's title refers to trust-fall exercises, a common theater practice. It's an act that takes courage, and over the course of the story, Max moves toward being willing to do it . . . Rewarding and touching." --Publishers Weekly, starred review
"A quirky take on a classic YA narrative on coping with loss, this book delights by showcasing a cast of colorful characters that help Max deal with grief, often via art." --Booklist
"Max's relationships with his new friends, crush, teacher, and father are realistic, flawed, and beautifully written . . . Recommended for most YA shelves." --School Library Journal
"A keen yet accessible portrait of the way grief can knock you sideways and time and humanity can draw you back." --Bulletin of the Center for Children's Books
About the Author
---
Marcella Pixley is a teacher and the author of two previous books for teens, Freak, a Kirkus Reviews Best Book of the Year, and Without Tess, which was described in a starred review in School Library Journal as "[a] lyrical, heartrending novel." She lives in Westford, Massachusetts with her husband and two sons.