Spy Schools: How the CIA, FBI, and Foreign Intelligence Secretly Exploit America's Universities (Paperback)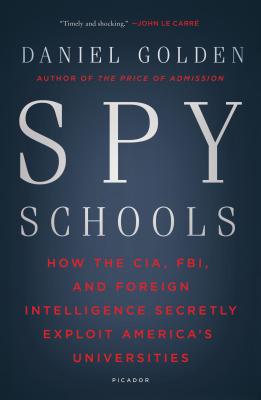 $20.00

usually available in 3-5 business days
Description
---
Pulitzer Prize–winning journalist Daniel Golden exposes how academia has become a major target of foreign and domestic espionage—and why that is troubling news for our nation's security and democratic values.

Grounded in extensive research and reporting, Spy Schools reveals that globalization—the influx of foreign students and professors and the outflow of Americans for study, teaching, and conferences abroad—has transformed U.S. higher education into a front line for international spying. In labs, classrooms, and auditoriums, intelligence services from countries like China, Russia, and Cuba seek insights into U.S. policy, recruits for clandestine operations, and access to sensitive military and civilian research. The FBI and CIA reciprocate, tapping international students and faculty as informants. Universities ignore or even condone this interference, despite the tension between their professed global values and the nationalistic culture of espionage.

Taking advantage of patriotic fervor and fear in the wake of 9/11, the CIA and other security agencies have infiltrated almost every aspect of academic culture and enlist professors, graduate students, and even undergraduates to moonlight as spies. Golden uncovers shocking campus activity—from the CIA placing agents undercover in Harvard Kennedy School classes and staging academic conferences to persuade Iranian nuclear scientists to defect, to a Chinese graduate student at Duke University stealing research for an invisibility cloak, and a tiny liberal arts college in Marietta, Ohio, exchanging faculty with China's most notorious spy school—to show how relentlessly and ruthlessly both U.S. and foreign intelligence services are penetrating the ivory tower.

Golden, the acclaimed author of The Price of Admission, unmasks this secret culture of espionage and its consequences at home and abroad.
About the Author
---
Daniel Golden won a Pulitzer for his Wall Street Journal series on admissions preferences at elite colleges, which became the basis for his bestselling book, The Price of Admission. His exposé of Countrywide's special loans to lawmakers during the subprime mortgage crisis resulted in Senate ethics hearings at which his story was read in its entirety into the Congressional record. In 2011, he was named a finalist for the Pulitzer in Public Service for his Bloomberg News series about for-profit colleges exploiting veterans and low-income students, collapsing the multi-billion-dollar industry.
Praise For…
---
"Whether you are a teacher, student, or parent, Daniel Golden's closely researched account of the assault on our academic freedoms by home-grown intelligence services is timely and shocking." —John le Carré

"Daniel Golden's Spy Schools provides a necessary, in-depth examination of the relationship between America's intelligence agencies and its universities. It's a relationship fraught with the conflict between academic freedom and the need for clandestine intelligence gathering. A must-read for both academic leaders and government intelligence directors, Spy Schools illustrates the complex world which both inhabit." —Janet Napolitano, President of the University of California and former U.S. Secretary of Homeland Security

"It's real-life 'Spy vs. Spy'… In this important book, Golden writes that universities not only ignore what is happening on their campuses but also sometimes condone it in ways that raise serious questions about America's national security…[a] fascinating book." —The Washington Post

"Golden …turns his considerable fact-finding skills to an eye-opening chronicle of how higher education has evolved into a key source for obtaining military and technological intelligence. A provocative look at the transformation of academia to a broad chessboard of international espionage." —Kirkus Reviews

"This forensic analysis of espionage in academia offers a chilling, highly readable insight into the unscrupulous exploitation by ruthless intelligence agencies operating across the globe." —Nigel West, intelligence historian and author of Spycraft Secrets

"Comprehensive…Golden's book doesn't just shed light on previously untold stories. It also highlights the existential questions facing higher education, not only when dealing with infiltration from foreign governments, but also those brought on by cozy relationships between the U.S. intelligence and academe." —Inside Higher Ed

"Daniel Golden brings his razor-sharp Pulitzer Prize-winning investigative skills to this woefully under-reported, yet critically-important aspect of intelligence. He takes us inside a program held over from the Cold War, where the stakes are high, but the costs to our civil liberties are higher." —John Kiriakou, author of The Reluctant Spy: My Secret Life in the CIA's War on Terror

"Spy Schools could not be more relevant. This is a book of both wisdom and caution and should be widely read and discussed in and outside the walls of academe...Even better than The Price of Admission." —E. Gordon Gee, president of West Virginia University

"Spy Schools is an explosive and deeply disturbing look at the dirty laundry under American universities' academic gowns. Dan Golden is a gifted researcher and an elegant writer whose exposé of campus espionage should raise alarms from the ivory tower to Capitol Hill." —Mitchell Zuckoff, New York Times bestselling author of 13 Hours and Lost in Shangri-La

"Daniel Golden's Spy Schools sheds a much needed light on one of the great under-reported occurrences in today's spy wars: how U.S. academic institutions serve as a target for foreign countries obtaining critical technologies while U.S. intelligence agencies, principally the FBI, use those same institutions as a base for intelligence and counterintelligence activities." —I.C. Smith, former FBI Special Agent in Charge and author of Inside: A Top G Man Exposes Spies, Lies and Bureaucratic Bungling Inside the FBI

"Golden's approach has the virtue of taking readers deep inside individual stories… [His] book is chock-full of cautionary tales that all academics need to take seriously."—The American Association of University Professors