Recoding America: Why Government Is Failing in the Digital Age and How We Can Do Better (Hardcover)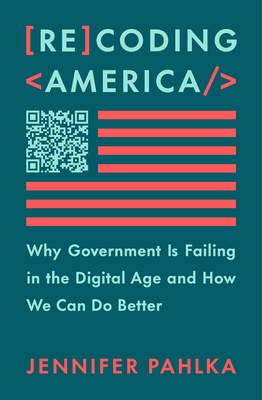 $31.99

usually available in 3-5 business days
Description
---
Named one of NPR's Best Books of 2023
Named one of Ezra Klein's "Books That Explain Where We Are in 2023," The New York Times

Learn more about Jennifer Pahlka's work at recodingamerica.us.

"The book I wish every policymaker would read."
—Ezra Klein, The New York Times

A bold call to reexamine how our government operates—and sometimes fails to—from President Obama's former deputy chief technology officer and the founder of Code for America

Just when we most need our government to work—to decarbonize our infrastructure and economy, to help the vulnerable through a pandemic, to defend ourselves against global threats—it is faltering. Government at all levels has limped into the digital age, offering online services that can feel even more cumbersome than the paperwork that preceded them and widening the gap between the policy outcomes we intend and what we get.

But it's not more money or more tech we need. Government is hamstrung by a rigid, industrial-era culture, in which elites dictate policy from on high, disconnected from and too often disdainful of the details of implementation. Lofty goals morph unrecognizably as they cascade through a complex hierarchy. But there is an approach taking hold that keeps pace with today's world and reclaims government for the people it is supposed to serve. Jennifer Pahlka shows why we must stop trying to move the government we have today onto new technology and instead consider what it would mean to truly recode American government.
About the Author
---
Jennifer Pahlka is the former deputy chief technology officer of the United States and the founder of Code for America, a nonprofit that believes government can work for people in the digital age. Pahlka is the winner of a Skoll Award for Social Entrepreneurship, among others, and has been selected by Wired magazine as one of the people who have most shaped technology and society in the past twenty-five years.
Praise For…
---
Named one of NPR's Best Books of 2023
Named one of Ezra Klein's "Books That Explain Where We Are in 2023," The New York Times

"An indispensable new book...Recoding America isn't just about tech. It's about the American administrative state, and it's a call for paring back the rigid rules that make it so hard to govern, and for rebuilding government's ability to do its job effectively."
—The Atlantic

"No one should be allowed to hold public office without reading this book."
—Adam Grant, author of Think Again

"If you've ever wondered how government can get better, you'll love Pahlka's fresh take on the solutions to our bureaucratic dysfunction. Everyone can learn something from this wonderful book: How to strengthen democracies, how to lead with more wisdom, how to make government work for all of us. The future of our society—and even our planet—depends on our ability to recode the American government."
—Charles Duhigg, author of The Power of Habit and Smarter Faster Better

"A remarkably compelling, inspiring, and entertaining read about government technology…A valuable and enlightening book."
—Science

"Every American who cares about our democracy should read this book. We all know government doesn't work the way it should, but we chalk it up to bureaucratic dysfunction. Taking us behind the scenes in the best and the worst of our bureaucracies, Pahlka lays bare not only what's wrong, but what to do about it. An engaging and compelling read on a problem we can't afford to ignore."
—Eric Schmidt, former Chairman of Alphabet

"Democracy depends on trust, and trust depends on the actual delivery of government services, delivery that fails far too often. Recoding America should be on the reading list of every person who wants to make a difference in the world, and every public servant who wants to make government work."
—Anne-Marie Slaughter, CEO of New America

"Recoding America will rattle some cages, but Pahlka's engaging and vivid accounts of policy rhetoric crashing onto the rocks of implementation will convince you those cages need a little rattling. A compelling argument to focus on the underappreciated art of delivery in our digital era."
—Satya Nadella, CEO of Microsoft

"Jen Pahlka's insight and experience make her the perfect author of this manifesto on how and why we must reset the relationships between people, policy, bureaucracy, and technology. Her call to action to understand people first, and to find ways to improve policy and systems, without always piling on more, should be in the front of the minds of every policymaker and project manager, working in the public sector."
—Garlin Gilchrist, Lt. Governor of Michigan

"Government policy makers get promoted by crafting Big Ideas. But what American citizens need from their leaders today is smarter delivery of policies—and in particular, better digital delivery. Jen Pahlka, America's former US Deputy Chief Technology Officer and a Silicon Valley insider, chronicles her years spent working to create a stronger, better, faster technology for the public sector, and what it taught her about how government works, when it doesn't, and how our leaders could hack their way to a better, more efficient, and more trustworthy democracy."
—Rana Foroohar, author of Makers and Takers, Homecoming