The Wonderful World of James Herriot: A Charming Collection of Classic Stories (Hardcover)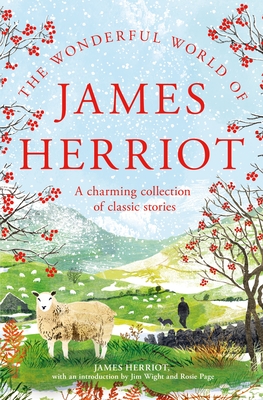 Description
---
James Herriot's timeless, heartwarming, and perceptive stories about animals and people have charmed millions of readers around the world, and millions more have watched the popular PBS series All Creatures Great and Small, which is based on his four books. The Wonderful World of James Herriot excerpts the best of his stories to shape the larger tale of his life, his family, and his world, illustrated with evocative drawings and family photographs, including a special introduction written by his two children Rosie Page and Jim Wight.

With astute observations and boundless humor, Herriot captures the spirit of the Yorkshire Dales and of rural communities on the cusp of change, before tractors and machines had taken over and modern medicines and antibiotics transformed veterinary work. Herriot's unforgettable portraits of farm animals and the people he served as a country veterinarian are moving, dramatic, warm, touching, and profound. This beautiful book is the perfect gift for Herriot readers of all ages.
About the Author
---
James Herriot (1916-1995) was the bestselling author of memoirs including All Creatures Great and Small, All Things Bright and Beautiful, All Things Wise and Wonderful, The Lord God Made Them All, and Every Living Thing. At age 23, Herriot qualified for veterinary practice with the Glasgow Veterinary College, and moved to the town of Thirsk in Yorkshire to work in a rural practice. He would live in, work in, and write about the region for the rest of his life. Though he dreamed for years of writing a book, his veterinary work and his family kept him busy, and he did not start writing until the age of 50. In 1979, he was awarded the title Order of the British Empire (OBE). His veterinary practice in Yorkshire, England, is now tended by his son, Jim Wight.

ROSIE PAGE and JIM WIGHT are James Alfred Wight's children. Jim joined his father as a veterinarian, and Rosie became a doctor. Both Rosie and Jim live in Yorkshire.