Ninety-Nine Glimpses of Princess Margaret (CD-Audio)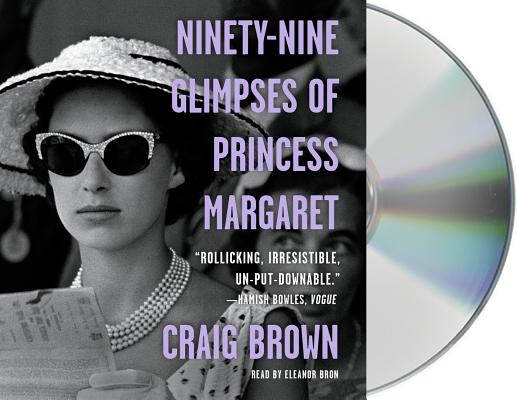 $50.99

Special Order - may be out of print
Description
---
A witty and profound audiobook portrait of the most talked-about English royal.

She made John Lennon blush and Marlon Brando tongue-tied. She iced out Princess Diana and humiliated Elizabeth Taylor. Andy Warhol photographed her. Jack Nicholson offered her cocaine. Gore Vidal revered her. Francis Bacon heckled her. Peter Sellers was madly in love with her. For Pablo Picasso, she was the object of sexual fantasy.

Princess Margaret aroused passion and indignation in equal measures. To her friends, she was witty and regal. To her enemies, she was rude and demanding. In her 1950s heyday, she was seen as one of the most glamorous and desirable women in the world. By the time of her death in 2002, she had come to personify disappointment. One friend said he had never known an unhappier woman. The tale of Princess Margaret is Cinderella in reverse: hope dashed, happiness mislaid, life mishandled.

Such an enigmatic and divisive figure demands a reckoning that is far from the usual fare. Combining interviews, parodies, dreams, parallel lives, diaries, announcements, lists, catalogues, and essays, Craig Brown's Ninety-Nine Glimpses of Princess Margaret is a kaleidoscopic experiment in biography and a witty meditation on fame and art, snobbery and deference, bohemia and high society.
About the Author
---
Craig Brown is a prolific journalist and author. He has been writing his parodic diary in Private Eye since 1989. He is the only person ever to have won three different Press Awards—for best humorist, columnist, and critic—in the same year. He has been a columnist for The Guardian, The Times (London), The Spectator, and The Daily Telegraph, among others. He currently writes for The Daily Mail and The Mail on Sunday. His New York Times bestseller, Hello Goodbye Hello was translated into ten languages.
Praise For…
---
A Guardian Book of the Year

A Times Book of theYear

A Sunday Times Book of the Year

A Daily Mail Book of the Year

"Rollicking, irresistible, un-put-downable . . . For anyone . . . who swooned to Netflix's The Crown, this book will be manna from heaven." —Vogue

"An original, memorable and substantial achievement." —Times Literary Supplement

"A biography teeming with the joyous, the ghastly and clinically fascinating." —The Times (London)

"Hilarious and eye-opening." —The Observer (London)

"Hugely entertaining . . . Brilliantly written, with a wonderful sardonic edge but also a thoughtful, moving tone." —The Spectator