Question Everything: A Stone Reader (Hardcover)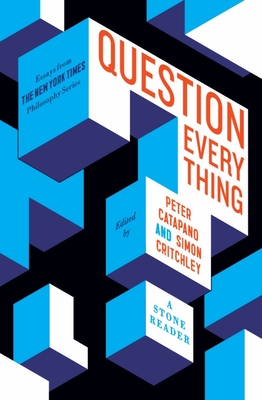 $40.00

usually available in 3-5 business days
Description
---
An essential addition to the Stone Reader series, Question Everything is a groundbreaking collection of philosophical essays from some of our foremost thinkers and storytellers.
When The Stone Reader—a landmark collection of 133 essays from the New York Times' award-winning philosophy column—first published, in 2015, the world urgently needed insight and wisdom, and for many, the book served as a bulwark of reason against the rising tide of post-fact rhetoric. Now, as disinformation continues to run rampant and our rights are increasingly called into question, editors Peter Catapano and Simon Critchley contend that philosophy in the public sphere is more crucial than ever.
Like The Stone Reader and its sequel, Modern Ethics in 77 Arguments, Question Everything delivers the contrarian views, sound arguments, and creative approaches to traditional opinion-writing that loyal readers of the series have come to expect. Its essays, however, are not organized by traditional categories like ethics or epistemology, but thematically by question, thirteen of them in all—the first twelve like the hours of a clock, ticking us through the tumultuous time in which these pieces were written, from late 2015 to 2021, with the last speculating into an uncertain future.
The volume begins with the most fundamental of questions: What does it mean to be human? There, contemporary thinkers from Martha Nussbaum to Bernard-Henri Lévy explore the essence of who we are as a species. The next question—Is democracy possible?—interrogates our social and political ideals. While Malka Older calls into question the viability of our institutions, philosophers Gary Gutting and Alex Rosenberg reassess the meaning of patriotism. And onward, with more timeless struggles: What is happiness? Does life have meaning? Finally, it asks, Is this the end of the world as we know it? Now what?
While its foundation and core consists of the work of professional scholars and philosophers, Question Everything also features a number of prominent artists and thinkers who may never appear on a philosophy syllabus, including, among others, novelist Elena Ferrante, actor Cate Blanchett, filmmaker Errol Morris, musician Sonny Rollins, and artist Ai Weiwei, all of whom offer insights shaped by decades of devotion to and practice of their crafts.
Designed both for immediate gratification and long-term use, Question Everything, with an introduction by Catapano, is not only an essential addition to a much-loved series, but an act of resistance, "a product," as Catapano writes, "of the spirit of agitation and inquiry that has been integral to the human enterprise from the beginning of recorded history."
About the Author
---
Peter Catapano is an award-winning opinion editor at the New York Times and the coeditor of several books, including About Us: Essays from the Disability Series of the New York Times.

Simon Critchley is a best-selling author and the Hans Jonas Professor of Philosophy at the New School for Social Research. His many books include The Book of Dead Philosophers, Bowie, and Tragedy, the Greeks, and Us.