A Friend for Dragon: An Acorn Book (Dragon #1) (Paperback)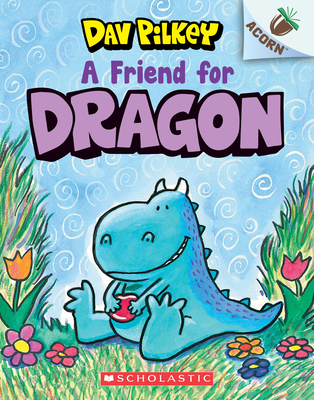 $4.99

usually available in 3-5 business days
Description
---
From Dav Pilkey, creator of the New York Times bestselling Dog Man and Captain Underpants series, comes Dragon, the heartwarming hero adored by Dav's youngest readers!Pick a book. Grow a Reader!This series is part of Scholastic's early reader line, Acorn, aimed at children who are learning to read. With easy-to-read text, a short-story format, plenty of humor, and full-color artwork on every page, these books will boost reading confidence and fluency. Acorn books plant a love of reading and help readers grow! Lonely Dragon has made a friend, and he loves spending time with his new buddy! He enjoys telling scary stories, cracking funny jokes, and fixing a midnight snack for them to share. But when his friend appears to be ill, Dragon demonstrates what it means to be a true friend. In this warmhearted friendship story of love and loss, Dav Pilkey has created a lovable hero that everyone will cheer for!
About the Author
---
When Dav Pilkey was a kid, he was diagnosed with ADHD and dyslexia. Dav was so disruptive in class that his teachers made him sit out in the hallway every day. Luckily, Dav loved to draw and make up stories. He spent his time in the hallway creating his own original comic books -- the very first adventures of Dog Man and Captain Underpants.
In the second grade, Dav's teacher ripped up his comics and told him he couldn't spend the rest of his life making silly books.
Fortunately, Dav was not a very good listener.
Praise For…
---
Praise for the Dragon series:* "Dragon never disappoints... The series hero is affability incarnate." -- Publishers Weekly, starred review"Since nothing is actually easy for a beginner to read, what more could we ask for newcomers than the intrinsic reward of a genuinely funny book? Again and again Pilkey delivers." -- Booklist"Genuinely warmhearted." -- Kirkus Reviews

Praise for the Dragon series:* "Dragon never disappoints... The series hero is affability incarnate." -- Publishers Weekly, starred review"Since nothing is actually easy for a beginner to read, what more could we ask for newcomers than the intrinsic reward of a genuinely funny book? Again and again Pilkey delivers." -- Booklist"Genuinely warmhearted." -- Kirkus Reviews