Byzantium and the Crusades (Hardcover)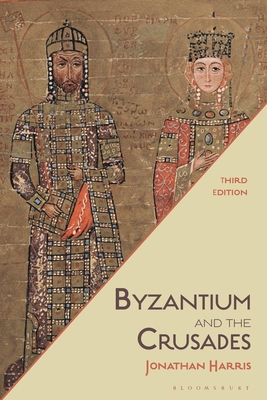 Description
---
Jonathan Harris's classic text chronologically surveys Byzantine history in the time of the Crusades. The book reveals the attitudes of the Byzantine ruling elites towards the Crusades and their ultimate inability to adapt to the challenges this presented. Using evidence amassed in a wealth of primary sources, Harris successfully makes the point that Byzantine interactions with Western Europe, the Crusades and the crusader states is best understood in the nature of the Byzantine Empire and the ideology which underpinned it, rather than in any generalised hostility between the peoples.

Incorporating recent scholarship, this 3rd edition has 25 further images, as well as additional maps and genealogical tables. This new edition also comes with two significant additions to the text:

* Appendix Isees the inclusion of seven critical Latin primary sources taken from across three centuries. Translated by the author, these sources are then discussed in detail, providing multiple first-hand perspectives on the subject in the process

* Appendix II provides assessments of various representations of the subject in key fiction and non-fiction works, thereby enriching your appreciation of the way that Byzantine interaction with the Crusades has been constructed at different times, from various standpoints and in other languages

This book remains the keystone to understanding the East-West relationship during the Crusades and what this meant for the Byzantine Empire.
About the Author
---
Jonathan Harris is Professor of the History of Byzantium at Royal Holloway, University of London, UK. He is the author of Constantinople: Capital of Byzantium (Bloomsbury Academic, 2nd Ed., 2017), Introduction to Byzantium, 602-1453 (2020) and The End of Byzantium (2010).