Chasing Helicity Through the Storm (Hardcover)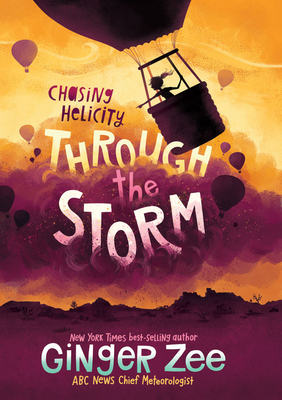 $16.99

Special Order - may be out of print
Other Books in Series
This is book number 3 in the Chasing Helicity series.
Description
---
Battered, bruised, but alive, Helicity Dunlap rides out a hurricane in the Bolivar Peninsula Lighthouse in Texas. She somehow manages to keep herself safe and to even rescue a lost dog in the process.
After a day in the hospital, she and her mom and Sam make the two-day drive back to Western Michigan. They leave Andy and their dad behind as Andy is finally going to get the help he needs in an addiction rehabilitation facility. Much to her dismay, Helicity ends up in the spotlight—first in a good way after surviving the hurricane and rescuing the dog—and then social media turns on her and she finds herself in the eye of a completely different kind of storm.
Back at school Helicity struggles to maintain her focus—long rides on her horse, Raven, help as do a few weekend trips with her mom. She decides to accept an offer to be interviewed about her experience in Texas by a reporter who followed her story. They meet up in Albuquerque, New Mexico, during the annual International Hot Air Balloon Festival, a spectacle that must be seen to be believed. The excitement builds as Helicity delights in her first ride in a lighter-than-air balloon when disaster strikes. A severe dust storm—a haboob—typical of the area erupts while Helicity is aloft.
How will the pilot navigate this threatening and potentially deadly storm? Find out in this exciting conclusion to the Chasing Helicity series.

About the Author
---
Ginger Zee is the Chief Meteorologist for ABC News, forecasting for and reporting on the nation's weather from Good Morning America to World News Tonight. Zee has been on the ground before, during and after almost every major weather event and dozens of historic storms including Hurricane Katrina. She watched as the eye of Superstorm Sandy passed over Atlantic City and then covered the devastated Jersey Shore; she was there for the Colorado floods and wildfires; and the destructive tornadoes in Moore and El Reno, Oklahoma. Zee's dedication to science began at an early age, watching powerful thunderstorms rush across Lake Michigan. Her passion for meteorology brought her to stormchase in college at Valparaiso University where she earned her bachelor of science in meteorology. Throughout her career and especially in this book, Zee is dedicated to getting young people interested in science, respecting the environment and atmosphere around them.