The Age of Wonder: The Romantic Generation and the Discovery of the Beauty and Terror of Science (Paperback)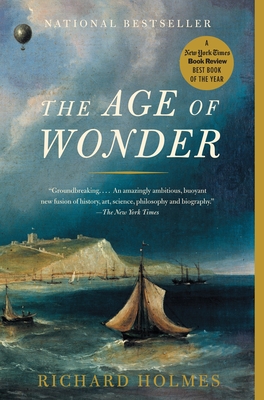 Description
---
The Age of Wonder is a colorful and utterly absorbing history of the men and women whose discoveries and inventions at the end of the eighteenth century gave birth to the Romantic Age of Science. 

When young Joseph Banks stepped onto a Tahitian beach in 1769, he hoped to discover Paradise. Inspired by the scientific ferment sweeping through Britain, the botanist had sailed with Captain Cook in search of new worlds. Other voyages of discovery—astronomical, chemical, poetical, philosophical—swiftly follow in Richard Holmes's thrilling evocation of the second scientific revolution. Through the lives of William Herschel and his sister Caroline, who forever changed the public conception of the solar system; of Humphry Davy, whose near-suicidal gas experiments revolutionized chemistry; and of the great Romantic writers, from Mary Shelley to Coleridge and Keats, who were inspired by the scientific breakthroughs of their day, Holmes brings to life the era in which we first realized both the awe-inspiring and the frightening possibilities of science—an era whose consequences are with us still.
About the Author
---
Richard Holmes is the author of Footsteps: Adventures of a Romantic Biographer; Sidetracks: Explorations of a Romantic Biographer; Dr. Johnson & Mr. Savage; Shelley: The Pursuit (for which he received the Somerset Maugham Award); Coleridge: Early Visions; and Coleridge: Darker Reflections (a New York Times Book Review Editors' Choice and a National Book Critics Circle Award finalist). He lives in England.
Praise For…
---
"Holmes's enthralling book itself exemplifies those qualities fostered by a scientific culture: "the sense of individual wonder, the power of hope, and the vivid but questing belief in a future for the globe." –The Washington Post
 
"In this big two-hearted river of a book, the twin energies of scientific curiosity and poetic invention pulsate on every page."
—The New York Times Book Review

"The Age of Wonder is the long-awaited fermentation of the author's knowledge of the Romantic poets and his lifelong fascination with science."
—The Economist

"Holmes, the biographer of Coleridge and Percy Bysshe Shelley, has a firm grip on science in "The Age of Wonder" and a fluency in drawing the connections to literature and religion." --Chemical and Engineering News

"Gives us . . . a new model for scientific exploration and poetic expression in the Romantic period. Informative and invigorating, generous and beguiling, it is, indeed, wonderful."
—The Guardian

"The most flat-out fascinating book so far this year…. Holmes' account of experimental science at the end of 1700s is beyond riveting."–Lev Grossman, Time Magazine

"Holmes is certainly the man to undertake this intellectual salvage operation…Ambitious…Eloquent." –Wall Street Journal

"Holmes pursues his many-chambered nautilus of a tale with energy and great rigor, unearthing many lives and assembling remnant shards of biography, history, science, and literary criticism." —Christian Science Monitor

"Rich in human foibles and thrills…" –Cleveland Plain Dealer
 
"Richard Holmes—who is almost unfairly gifted both as a writer of living, luminous prose and as a tireless researcher—braids Herschel's story together with a dozen others to create the most joyful, exciting book of the year." –Time Magazine, "The Top 10 Everything of 2009"
 
"If, like me, you didn't study much science after high school, this absorbing narrative will make you appreciate the gravity of your mistake. At one level, it is simply an enchanting group biography of the great British discoverers Joseph Banks, Humphrey Davy, and William Herschel, and their relationships with the likes of Keats, Coleridge, Byron and the Shelleys. At another, Holmes's book is a persuasive plea to heal the pointless breach between the "two cultures" of science and the humanities. Reading it made we want to do college over, this time as a history of science major." –Slate, Best Books of 2009

"What's superlative about "The Age of Wonder" is that Holmes, author of vivid biographies of Shelley and Coleridge, takes the air out of the terms "subjectivity" and "objectivity" and reveals the ways in which the artists were as enveloped in science as the men and women in the labs around them. In a harmony of scientific and artistic sensibilities, he shows, the Romantics tapped the marvels of nature and sounded the infinite benefits of science. It's a song, if we can hear it, that can transform us today." —Salon

"For Holmes to bring those people back to life is a great achievement…this is the finest history of science book I've come across." —Physics Today

"The opening words of Richard Holmes's "The Age of Wonder" couldn't be calmer, but the charge embedded within them ignited an era that merits his soaring title. It was a singular time, and this is a singular book." —CNNmoney.com

"What Holmes has given us with this account of the Romantic scientists is, curiously enough, a thrilling new way to interpret the poets of the era. To bring new light to such a widely read group–and from the angle least expected, that of rigorous scientific study–is Holmes's considerable gift." —Poetry Foundation

"It was a singular time, and this is a singular book." —Fortune Magazine

"[An] amazingly ambitious, buoyant new fusion of history, art, science, philosophy, and biography . . . . Holmes's excitement at fusing long-familiar events and personages into something startlingly new is not unlike the exuberance of the age that animates his groundbreaking book."
—Janet Maslin, The New York Times

"The Romantics gave us many of our notions of how science is done, which makes the subject of this book—even leaving aside the brilliance with which much of it is told—significant beyond its importance as intellectual history." –American Scholar
 
"I've been fascinated by a new book, The Age of Wonder, by Richard Holmes. He talks about how scientists and poets were very much aligned in the Age of Enlightenment, around 1800. Coleridge, Byron and Shelley were all interested in scientific progress. What was discovered, whether in labs or in the cliffs of Tahiti, excited and inspired everyone. I was gripped by that, because it comes at a time when Harvard and other universities are starting to question why different university departments should feel so separate when the purpose of a university is supposedly to bring all the sciences and humanities together." –Yo-Yo Ma



Praise from the United Kingdom for The Age of Wonder

"Holmes suffuses his book with the joy, hope, and wonder of the revolutionary era. Reading it is like a holiday in a sunny landscape, full of fascinating bypaths that lead to unexpected vistas."
—The Sunday Times

"Gives us . . . a new model for scientific exploration and poetic expression in the Romantic period. Informative and invigoration, generous and beguiling, it is, indeed, wonderful."
—The Guardian

"Romanticism and Science are justly reunited in Holmes's new book . . . A revelation . . . Thrilling."
—The Independent

"Exhilarating . . . Instructive and delightful . . . Finely observed . . . Generous and hugely enjoyable."
—The Daily Telegraph

"Fascinating . . . This beautifully crafted book deserves all the praise it will undoubtedly attract. Well-researched and vividly written, The Age of Wonder will fascinate scientists and poets alike."
—The Literary Review