The Light in the Forest (Mass Market)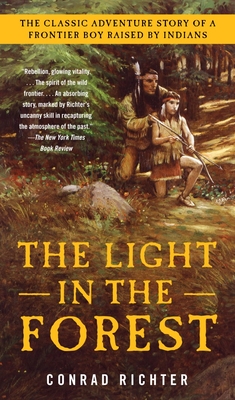 $7.95

Special Order - may be out of print
Description
---
An adventurous story of a frontier boy raised by Indians, The Light in the Forest is a beloved American classic.

When John Cameron Butler was a child, he was captured in a raid on the Pennsylvania frontier and adopted by the great warrrior Cuyloga. Renamed True Son, he came to think of himself as fully Indian. But eleven years later his tribe, the Lenni Lenape, has signed a treaty with the white men and agreed to return their captives, including fifteen-year-old True Son. Now he must go back to the family he has forgotten, whose language is no longer his, and whose ways of dress and behavior are as strange to him as the ways of the forest are to them.
About the Author
---
Conrad Richter was born in Pennsylvania, the son, grandson, nephew, and great-nephew of clergymen. He was intended for the ministry, but at thirteen he declines a scholarship and left preperatory school for high school, from which he graduated at fifteen. After graduation, he went to work. His family on his mother's side was identified with the early American scene, and from boyhood on he was saturated with tales and the color of Eastern pioneer days. In 1928 he and his small family moved to New Mexico, where his heart and mind were soon caputred by the Southwest. From this time on he devoted himself to fiction. The Sea of Grass and The Trees were awarded the gold medal of the Societies of Libraries of New York University in 1942. The Town received the Pulitzer Prize in 1951, and The Waters of Kronos won the 1960 National Book Award for fiction. His other novels included The Fields (1946), The Lady (1957), A Simple Honorable Man (1962), The Grandfathers (1964), A Country of Strangers (1966; a companion to The Light in the Forest), and The Aristocrat, published just before his death in 1968.
Praise For…
---
"Rebellion, glowing vitality. . . . The spirit of the wild frontier. . . . An absorbing story, marked by Richter's uncanny skill in recapturing the atmosphere of the past." –The New York Times Book Review

"Memorable . . . Richter tells the story with [a] glowing passion for unspoiled nature. . . . It is impossible to doubt the detailed . . . accuracy of the picture." –New York Herald Tribune

"Good reading for anyone curious about the past of our country." –The Yale Review