A Sense of the Mysterious: Science and the Human Spirit (Paperback)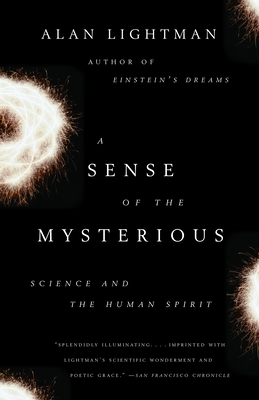 $15.00

Special Order - may be out of print
Description
---
From the bestselling author of Einstein's Dreams comes this lyrical and insightful collection of science writing that delves into the mysteries of the scientific process--physics, astronomy, mathamatics--and exposes its beauty and intrigue.
In these brilliant essays, Lightman explores the emotional life of science, the power of imagination, the creative moment, and the alternate ways in which scientists and humanists think about the world. Along the way, he provides in-depth portraits of some of the great geniuses of our time, including Albert Einstein, Richard Feynman, Edward Teller, and astronomer Vera Rubin. Thoughtful, beautifully written, and wonderfully original, A Sense of the Mysterious confirms Alan Lightman's unique position at the crossroads of science and art.
About the Author
---
ALAN LIGHTMAN is the author of six novels, including Einstein's Dreams, which was an international bestseller, and The Diagnosis, which was a finalist for the National Book Award. He is also the author of three collections of essays and several books on science. His work has appeared in The Atlantic, Granta, Harper's, The New Yorker, The New York Review of Books, and Nature, among other publications. Since beginning his career as a theoretical physicist, Lightman has taught at Harvard and at MIT, where he was the first person to receive a dual faculty appointment in science and in the humanities. He lives in the Boston area.
Praise For…
---
"Splendidly illuminating... Imprinted with Lightman's scientific wonderment and poetic grace."
—San Francisco Chronicle

"Original. . . . Heartfelt. . . . Illuminating. . . . Lightman writes with his characteristic, unmannered leanness. His style takes something from the scientists who 'want to hear that call of certain truth, that clear note of a struck bell.'" —St. Louis Post-Dispatch

"A fine introduction to the excitement and pleasures of science by a scientist who is a humanist in the noblest sense of the word."—Los Angeles Times

"This slender volume mixes insightful scientific biographies with revealing autobiographical accounts and leavens them both with clearly told physics lessons for lay readers." —The Boston Globe

"Wonderfully perceptive. . . . Finely chiseled essays." —Scientific American