The Education of a Coach (Paperback)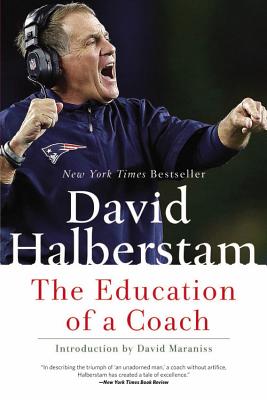 Description
---
Pulitzer Prize-winner David Halberstam's bestseller takes you inside the football genius of Bill Belichick for an insightful profile in leadership. Bill Belichick's thirty-one years in the NFL have been marked by amazing success--most recently with the New England Patriots. In this groundbreaking book, David Halberstam explores the nuances of both the game and the man behind it. He uncovers what makes Bill Belichick tick both on and off the field.
About the Author
---
David Halberstam (1934-2007) was the author of twenty-two books, including fifteen bestsellers. Born in New York City, Halberstam spent much of the 1960s as a reporter for the New York Times, covering the Vietnam War and the Civil Rights movement. His Vietnam reporting earned him both a George C. Polk Award and a 1964 Pulitzer Prize for International Reporting. Vanity Fair dubbed Halberstam "the Moses of American journalism," and the subjects of his books reflect his passion and range: war, foreign policy, history, and sports.

The Best and the Brightest (1962), his sixth book, a critique of the Kennedy administration's Vietnam policy, became a #1 bestseller. His next book, The Powers that Be, a study of four American media companies, was hailed by the New York Times as a "prodigy of research." Many of Halberstam's books explored themes in professional sports, including bestsellers The Teammates, a portrait of the friendship between baseball players Ted Williams, Dominic DiMaggio, Johnny Pesky, and Bobby Doerr, and The Education of a Coach, a profile of New England Patriots' Coach Bill Belichick.
Praise For…
---
"If you want to learn about schooling and allegiance and leadership and, most of all, football, by all means--slip inside the sweatshirt."—Wall Street Journal

"Halberstam takes the classic sports-bio formula--one stellar performer's rise to the pinnacle of American sport--and transforms it into a nuance-rich story of individual triumph and social history."—Booklist

"In describing the triumph of 'an unadorned man,' a coach without artifice, Halberstam has created a tale of excellence."—New York Times Book Review