Thebes: The Forgotten City of Ancient Greece (Paperback)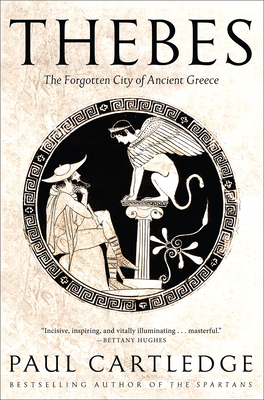 $20.00

usually available in 3-7 days
Description
---
The riveting, definitive account of the ancient Greek city of Thebes, by the acclaimed author of The Spartans—now in paperback
Among the extensive writing available about the history of ancient Greece, there is precious little about the city-state of Thebes. At one point the most powerful city in ancient Greece, Thebes has been long overshadowed by its better-known rivals, Athens and Sparta. In
Thebes: The Forgotten City of Ancient Greece
, acclaimed classicist and historian Paul Cartledge brings the city vividly to life and argues that it is central to our understanding of the ancient Greeks' achievements—whether politically or culturally—and thus to the wider politico-cultural traditions of western Europe, the Americas, and indeed the world.
From its role as an ancient political power, to its destruction at the hands of Alexander the Great as punishment for a failed revolt, to its eventual restoration by Alexander's successor, Cartledge deftly chronicles the rise and fall of the ancient city. He recounts the history with deep clarity and mastery for the subject and makes clear both the differences and the interconnections between the Thebes of myth and the Thebes of history. Written in clear prose and illustrated with images in two color inserts,
Thebes
is a gripping read for students of ancient history and those looking to experience the real city behind the myths of Cadmus, Hercules, and Oedipus.
About the Author
---
Paul Cartledge is the A. G. Leventis Professor of Greek Culture Emeritus at the University of Cambridge, and a Fellow of Clare College. He has written and edited more than 20 books, many of which have been translated into foreign languages, including The Spartans, Alexander the Great, and Thermopylae, all published by The Overlook Press/Abrams Press, and most recently Democracy: A Life. He is an honorary citizen of modern Sparta and holds the Gold Cross of the Order of Honor awarded by the president of Greece.
Praise For…
---
"a welcome addition to any philhellenic library by a reliable, readable interpreter of the ancient past."
— Kirkus Reviews

"Diving deep into centuries' worth of scholarship, Cartledge manages to make the ancient world accessible to modern readers. This deeply informed and richly detailed chronicle restores Thebes to its rightful place in history."
— Publishers Weekly

"Mr. Cartledge's command of the historical material is effortless and exhaustive, and his appreciation of Thebes is persuasive."
— The Wall Street Journal