Maydan: Recipes from Lebanon and Beyond (Hardcover)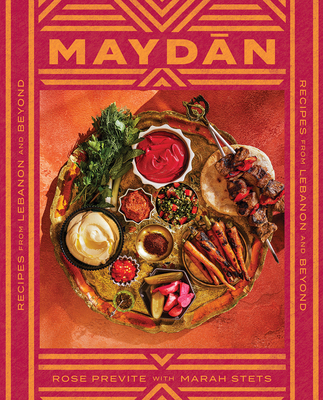 Description
---
The debut cookbook from Rose Previte, creator of the Michelin-starred restaurant Maydān and the beloved Compass Rose, explores bold flavors, accessible, shareable recipes, and overlapping foodways, spanning from Lebanon to Morocco, from Oman to the Republic of Georgia—cowritten with New York Times bestselling cookbook author Marah Stets.

Rose Previte introduces readers to the eclectic cultures of the region spanning North Africa, the Caucuses, and the Middle East through food, offering a nuanced, informed, and yet entirely warm and personal way in. Before opening her beloved Washington, DC, restaurants Maydān and Compass Rose, Previte traveled old spice trade routes to learn from home cooks, and it became apparent how adjacent cooking traditions informed and folded back on one another, creating a constant dialogue.

Ancient foodways don't recognize geopolitical boundaries. For instance, the harissa found in Tunisia is incredibly similar to the adjika used in Georgia, and the lineage of baking bread in clay ovens stretches across the region with strikingly parallel methods. And in that vein, the word maydān has roots in a number of languages and has been crossing borders for generations, from Tangier to Tehran and from Beirut to Batumi. It means "gathering place" or "square," often located in the middle of a city, and originates in Arabic, but translates to Hindi, Urdu, Persian, Ukrainian, and even Latin. To Previte, it symbolizes how food brings us together and everyone can add a personal twist.

Previte's culinary journey began at home with her Lebanese American mother and Sicilian American father. Many of the recipes and techniques in this book were imparted to Previte by home cooks, often grandmothers, whom she learned from on her travels in the Middle East and beyond. With more than 150 recipes, Maydān offers guidance on how to build our own tables, taking cues from the way Previte's Lebanese family ate growing up; emphasizing mixing and matching; scaling up or down; making a weeknight meal such as Tunisian Chicken Skewers with Loobieh bi Zeit (Green Bean Salad); creating the ideal spread of Lebanese small plates for entertaining guests; and a project day (the cheesy Georgian bread Khachapuri), all of which can be paired with one of the easy-to-source Georgian and Lebanese wines Rose recommends.

Both accessible and delicious, the food in this cookbook is perfectly suited to the home cook because it is not fussy and everything on the table is meant to be shared.
About the Author
---
Rose Previte is the owner of several of Washington, DC's acclaimed restaurants: the Michelin-starred and James Beard Award finalist Maydān, Compass Rose, Kirby Club, and Medina. Maydān quickly earned coveted spots on many national Best New Restaurants in America lists, including at Bon Appetit, Food & Wine, GQ, and Eater; was named a James Beard Award Semifinalist for Best New Restaurant in 2018; and earned a Michelin star in 2019. She is also the cofounder of Go There Wines, a social-impact wine company. Raised in a food-loving Sicilian-Lebanese family in Ohio, Rose started working in food in her mother's restaurant and Lebanese catering business. Her first restaurant, Compass Rose, was inspired by spending nearly three years traveling to more than thirty countries, all while she lived in Russia with her husband, David Greene, posted there as the correspondent for NPR. She lives a bicoastal life between Los Angeles and Washington, DC.

Marah Stets is a bestselling cookbook writer and editor. Her culinary career began in France, where she helped run culinary courses, organized countryside excursions, and provided French-to-English translation at La Varenne, Anne Willan's acclaimed cooking school. In the mid-1990s, she moved to New York to work on the 1997 edition of the Joy of Cooking. She has coauthored New York Times bestsellers, Washington Post "Best Cookbook of the Year" selections, and James Beard and IACP cookbook award finalists and winners. Stets lives in Washington, DC.
Praise For…
---
"With Maydān, Rose Previte has penned a glorious love letter to food cultures that are often overshadowed by newspaper headlines. She delivers simple-to-follow recipes for the kind of bright, soulful food you want to eat every day of the week."—Emmy-nominated television personality, Nilou Motamed

"Rose Previte's Maydān is extraordinarily scrumptious, stunning, and smart! She brilliantly weaves together recipes from her family, restaurants, and travels, while adding meaningful cultural context. The book is a joy to read."—chef, cookbook author, and PBS host, Pati Jinich

"Maydān is one of my favorite go-to spots in DC—the perfect place to tuck in and feel transported to so many different worlds. Rose Previte has translated this sense of joy, wanderlust, and coziness into the pages of Maydān, the cookbook. Each recipe in this book represents culture in every way. A delicious history that should be devoured page after page."—chef, author, television personality, and Food & Wine executive producer, Kwame Onwuachi