We Wait for a Miracle: Health Care and the Forcibly Displaced (Hardcover)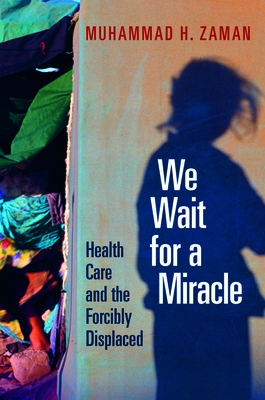 $28.95

Coming Soon - Available for Pre-Order Now
Description
---
The story of how we treat refugees is a story about our own moral failings, and the barriers that refugees face in accessing health care can be as difficult to overcome as any other adversity in their path to stability.
Around the world, millions are forcibly displaced by conflict, climate change, and persecution. Some cross international borders, while others are displaced within their own countries. In We Wait for a Miracle, Muhammad H. Zaman shares poignant stories across continents to highlight the health care experiences of refugees and forced migrants. For many of these people, health risks unfortunately become part of the fabric of everyday life as they navigate new countries that treat them with varying degrees of care and indifference.
Across widely varied local systems, countries of origin, health concerns, and other contexts, Zaman finds that barriers to health care share these key factors: trust, social network, efficiency of the health system, and the regulatory framework of the host environment. A combination of these factors explains difficulties in accessing health care across the geographic and geopolitical spectrum and challenges the existing global public health framework, which is based entirely on local context. In moving stories that span seven countries--Sudan, South Sudan, Uganda, Zimbabwe, Pakistan, Colombia, and Venezuela--Zaman shares the everyday struggles of refugees, the internally displaced, and the stateless in accessing the health care they need.
This unique look at an urgent global challenge addresses the issue of access for populations that are currently in distress due to civil war, economic collapse, or a conflict driven by external state actors. Organic social networks and trust, rather than top-down policies, are often what save the lives of migrants, refugees, and the stateless. Focusing on that trust--and its deficit--in camps, urban slums, hospitals, and clinics, Zaman combines personal and journalistic accounts of refugees with broad systemic analysis on global health care access to compare problems and solutions in different regions and provide holistic policy and practice recommendations for refugees, internally displaced persons, and stateless populations.
About the Author
---
Muhammad H. Zaman (BOSTON, MA) is the Howard Hughes Medical Institute Professor of Biomedical Engineering and International Health at Boston University. He is director of the Center on Forced Displacement at Boston University. He is the author of Bitter Pills: The Global War on Counterfeit Drugs and Biography of Resistance: The Epic Battle between People and Pathogens.