Superman versus the Ku Klux Klan: The True Story of How the Iconic Superhero Battled the Men of Hate (Hardcover)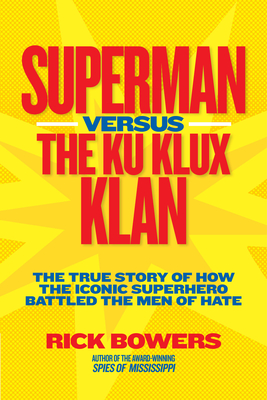 $16.95
Usually Ships in 1-5 Days
Description
---
This book tells a group of intertwining stories that culminate in the historic 1947 collision of the Superman Radio Show and the Ku Klux Klan. It is the story of the two Cleveland teenagers who invented Superman as a defender of the little guy and the New York wheeler-dealers who made him a major media force. It is the story Ku Klux Klan's development from a club to a huge money-making machine powered by the powers of fear and hate and of the folklorist who--along with many other activists-- took on the Klan by wielding the power of words. Above all, it tells the story of Superman himself--a modern mythical hero and an embodiment of the cultural reality of his times--from the Great Depression to the present.

National Geographic supports K-12 educators with ELA Common Core Resources.
Visit www.natgeoed.org/commoncore for more information.
About the Author
---
Rick Bowers worked as a newspaper reporter and editor for more than 15 years, reporting for the Patriot Ledger of Quincy, Massachusetts, the Miami Herald, and USA Today. His articles have been published in many of the most prestigious publications in the country, including the Washington Post, Chicago Tribune, Philadelphia Inquirer, and TIME. Over the past decade Bowers has envisioned and directed innovative multimedia projects, telling powerful, socially relevant stories through print, the web, TV, radio, music, and drama. Working with AARP, the Leadership Conference on Civil Rights, and the Library of Congress, he directed Voices of Civil Rights, a multimedia project that gathered thousands of first-hand accounts of the Civil Rights Movement to form the world's largest archive of testimonials from the era. The initiative included a History Channel documentary that won both Emmy and Peabody Awards. The website won the prestigious Webby Award. Bowers is the Director of Creative Initiatives at AARP, where he continues to develop far-reaching multimedia programs. He lives in the Maryland suburbs of Washington, D.C., with his wife and two daughters.