Christine Falls (Compact Disc)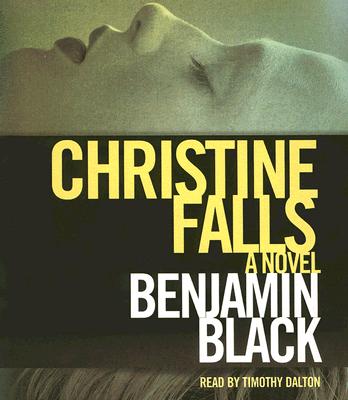 $39.95

Special Order - may be out of print
Staff Reviews
---
Set in 1950s Dublin, Christine Falls is the first of a series featuring the hard drinking, rather depressive pathologist, Quirke.  Curious about the details of a suspicious death, he obsessively traces the victim's circumstances that turn out to involve his own family.
So besides a compelling whodunnit, we discover Quirke's backstory along with family complications, reaching across the pond to Catholic Boston where some of the action takes place.  By Booker Prize winner John Banville under his pseudonym, the writing is exceptional for the mystery genre.
— Fay
Description
---
It's not the dead that seem strange to Quirke. It's the living. One night, after a few drinks at an office party, Quirke shuffles down into the morgue where he works and finds his brother-in-law, Malachy, altering a file he has no business even reading. Odd enough in itself to find Malachy there, but the next morning, when the haze has lifted, it looks an awful lot like his brother-in-law, the esteemed doctor, was in fact tampering with a corpse—and concealing the cause of death.
 
It turns out the body belonged to a young woman named Christine Falls. And as Quirke reluctantly presses on toward the true facts behind her death, he comes up against some insidious—and very well-guarded—secrets of Dublin's high Catholic society, among them members of his own family.
 
Set in Dublin and Boston in the 1950s, the first novel in the Quirke series brings all the vividness and psychological insight of Booker Prize winner John Banville's fiction to a thrilling, atmospheric crime story. Quirke is a fascinating and subtly drawn hero, Christine Falls is a classic tale of suspense, and Benjamin Black's debut marks him as a true master of the form.
About the Author
---
Benjamin Black is the pen name of acclaimed author John Banville, who was born in Wexford, Ireland, in 1945. His novels have won numerous awards, most recently the Man Booker Prize in 2005 for The Sea. He lives in Dublin.
Praise For…
---
Advance Praise for Christine Falls: "Christine Falls is a triumph of classical crime fiction, finely, carefully made, not a single false move or wrong word--why don't they write books like this anymore?"--Alan Furst Praise for the Work of John Banville: "Contemporary fiction gets no better than this... Banville's books teem with life and humor."--Patrick McGrath, The New York Times Book Review on The Untouchable "John Banville is the heir to Nabokov."--The Sunday Telegraph on The Sea "A major work of fiction in which every suave moment calmly detonates to show the murderous gleam within."--Don DeLillo on The Book of Evidence