A Fatal Grace: A Chief Inspector Gamache Novel (CD-Audio)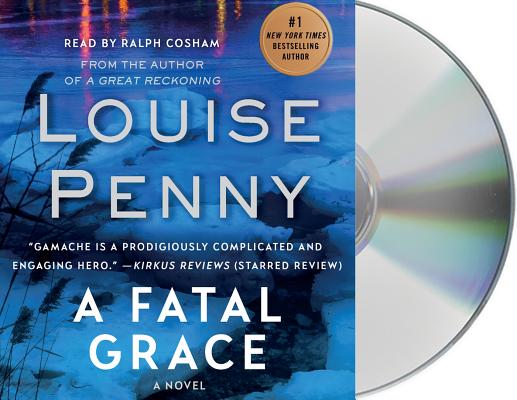 $45.99

Special Order - may be out of print
Other Books in Series
This is book number 2 in the Chief Inspector Gamache Novel series.
Description
---
Winner of the 2007 Agatha Award for Best Novel!

From the Dagger award winning author Louise Penny comes the second Armand Gamache mystery set in the stunning countryside of Quebec.

Welcome to winter in Three Pines, a picturesque village in Quebec, where the villagers are preparing for a traditional country Christmas, and someone is preparing for murder.

No one liked CC de Poitiers. Not her quiet husband, not her spineless lover, not her pathetic daughter—and certainly none of the residents of Three Pines. CC de Poitiers managed to alienate everyone, right up until the moment of her death.

When Chief Inspector Armand Gamache, of the Sûreté du Quebec, is called to investigate, he quickly realizes he's dealing with someone quite extraordinary. CC de Poitiers was electrocuted in the middle of a frozen lake, in front of the entire village, as she watched the annual curling tournament. And yet no one saw anything. Who could have been insane enough to try such a macabre method of murder—or brilliant enough to succeed?

With his trademark compassion and courage, Gamache digs beneath the idyllic surface of village life to find the dangerous secrets long buried there. For a Quebec winter is not only staggeringly beautiful but deadly, and the people of Three Pines know better than to reveal too much of themselves. But other dangers are becoming clear to Gamache. As a bitter wind blows into the village, something even more chilling is coming for Gamache himself.
About the Author
---
LOUISE PENNY is the author of the #1 New York Times, USA Today, and Globe and Mail bestselling series of Chief Inspector Armand Gamache novels, and coauthor with Hillary Rodham Clinton of the #1 New York Times bestselling thriller State of Terror. She has won numerous awards, including a CWA Dagger and the Agatha Award (eight times), and was a finalist for the Edgar Award for Best Novel. In 2017, she received the Order of Canada for her contributions to Canadian culture. Louise lives in a small village south of Montréal.

Ralph Cosham is best known as the voice behind all of Louise Penny's bestselling Chief Inspector Gamache novels. He won the 2013 Audie Award for Louise Penny's A Beautiful Mystery. He is a film, stage, and voice actor who narrated over 100 audiobooks, including Frankenstein, Around the World in Eighty Days, Alice in Wonderland, and Watership Down. His audiobook credits include works by C.S. Lewis, Simon Brett and C.S. Forester.  Several of his works have been awarded Audio Best of the Year by Publisher's Weekly.
Praise For…
---
"The cozy mystery, which aims to charm as much as challenge, has a graceful practicioner of that artful dodge in Louise Penny." —The New York Times Book Review

"A traditional and highly intelligent mystery….sure to create great reader demand for more stories featuring civilized and articulate Chief Inspector Gamache…. Highly recommended." —Library Journal (starred review)

"Remarkably, Penny manages to top her outstanding debut. Gamache is a prodigiously complicated and engaging hero, destined to become one of the classic detectives." —Kirkus Reviews (starred review)

"For all the perplexing mechanics of the murder, and the snowed-in village setting, this is not the usual "cosy" or even a traditional mystery. It's a finely written, intelligent and observant book. Imbued with a constant awareness of the astonishing cold, this perfect blend of police procedural and closed-room mystery finds its solution, as in the best of those traditions, in the slow unlayering of a sorrowful past." —Houston Chronicle

"Gamache, a smart and likable investigator--think Columbo with an accent, or perhaps a modern-day Poirot--systematically wades his way through the pool, coming upon a few surprises along the way....This is a fine mystery in the classic Agatha Christie style, and it is sure to leave mainstream fans wanting more." —Booklist

"This book is a small and perfect literary jewel. Penny is the best writer of traditional mysteries to come along in decades. I haven't read a book this beautifully written since A Thread of Grace by Mary Doria Russell." —Kingston Observer

"Very simply, I loved this book. I expect you will, too." —Mystery Scene magazine

"The cast of A Fatal Grace is a marvelous mystery….the plotting is intricate, the pacing perfect, the writing brilliant….Ms. Penny leaves a bit of a cliffhanger for readers to ponder until the next installment. It can't come soon enough for me." —Cozy Library blog

"A cerebral, satisfying novel….it transcends genre, giving a thoughtful look at the human soul and the divine presence….A Fatal Grace has a grace all it's own." —I Love a Mystery blog

"Louise Penny's A Fatal Grace is one of the best mysteries I've read this year." —Lesa's Book Critiques

"There are portions of this book that are so beautifully written they stick with the reader for months….As I read this I thought if Emily Dickinson ever came back to Earth, it might be an a mystery writer." —Aunt Agatha's Mystery Bookstore

"The beauty of Louise Penny's auspicious debut novel, Still Life, is that it's composed entirely of grace notes, all related to the central mystery of who shot an arrow into the heart of Miss Jane Neal....The dear old thing had hidden depths, courtesy of an author whose deceptively simple style masks the complex patterns of a well-devised plot." —The New York Times Book Review on Still Life

"Terrific. Like a virtuoso, Penny plays a complex variation on the theme of the clue hidden in plain sight. A winning traditional mystery." —Publishers Weekly (starred review) on Still Life

"Cerebral, wise, and compassionate, Gamache is destined for stardom. Don't miss this stellar debut." —Kirkus Reviews (starred review) on Still Life

"A gem of a book....a beautifully told, lyrically written story of love, life, friendship, and tragedy." —Booklist (starred review) on Still Life

"This cerebral mystery...is a rare treat." —People on Still Life

"A perfectly executed traditional mystery." —The Denver Post on Still Life

"Don't look for the hamlet of Three Pines anywhere on a map of the countryside outside of Montreal, although Louise Penny has made the town and its residents so real...that you might just try to find it." —Chicago Tribune on Still Life