Gestalt Therapy (Theories of Psychotherapy Series(r)) (Paperback)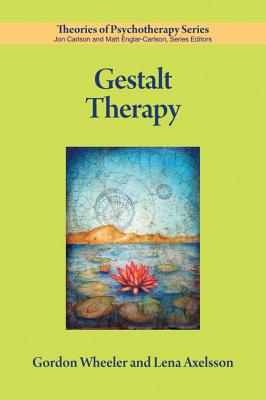 $34.95

Backordered - OK to 'add to cart' and we'll let you know when your copy is here
Description
---
This book provides an introduction to the theory, historical evolution, research, and practice of Gestalt therapy, which arose in reaction to the dominant psychotherapy approaches of the mid-twentieth century. Open-ended and inquisitive, Gestalt is a set of guiding principles that inspire an active, present-focused, relational stance on the part of the therapist.

This essential primer, amply illustrated with case examples featuring diverse clients, is perfect for graduate students studying theories of therapy and counseling, as well as for seasoned practitioners interested in understanding how this approach has evolved and how it might be used in their own practice.
About the Author
---
Gordon Wheeler, PhD, is a licensed psychologist with many years' experience writing, teaching, training, and practicing using a contemporary field-relational Gestalt therapy model. He is the author or editor of numerous books and articles in the field, most recently, CoCreating the Field: Intention and Practice in the Age of Complexity (with Deborah Ullman, 2009). Dr. Wheeler is on the visiting faculty of many Gestalt training institutes around the world, and is long-time president of the Esalen Institute in Big Sur, California, where he also served for some years as CEO. Together with Nancy Lunney Wheeler, he teaches Gestalt Relational Constellations widely around the world. His private practice of coaching, counseling, psychotherapy and consulting is located in Santa Cruz, California. Lena Axelsson, PsyD, was educated and received her Gestalt training in Sweden, moving to the United States in 2000. Following 4 years living and studying at Esalen Institute in Big Sur, California, she completed her doctoral work at Ryokan College, where her dissertation was The Use of Relational Gestalt Therapy Informed by Neuroscience in the Treatment of Single Event and Developmental Trauma. After serving for several years as a clinician and a clinical supervisor at Pajaro Valley Prevention and Student Assistance Center, working with troubled young people and families in a diverse population, Dr. Axelsson entered private clinical practice with children, adolescents, adults, couples and families. In addition to her clinical Gestalt training, she has also trained extensively with Peter Levine in Somatic Experiencing. She presents regularly at conferences and in training sessions on Gestalt-based multicultural work, as well as on single event and developmental trauma and the neuroscientific basis of contemporary Gestalt-based trauma and recovery work. Dr. Axelsson presents as well as part of the faculty of the Esalen Institute Evolution of Gestalt Symposium Series (selected proceedings published in the GestaltPress book series). Her forthcoming work on this topic as applied to couples work will appear in The Couple in the Relational Field (Eds. M. Kraus, A. Robers, & G. Wheeler, in press). Dr. Axelsson lives in Santa Cruz, California, where she practices as a member of an integrative medical health team. Her special interests include hiking, running, and the diverse cuisines of Europe and the Americas.