Lessons in Masterful Portrait Drawing: A Classical Approach to Drawing the Head (Hardcover)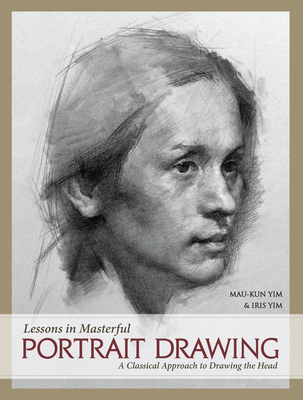 $29.99

Special Order - may be out of print
Description
---
Draw the best portraits with form and spirit.

Drawing techniques from a master!

Mau-Kun Yim learned to draw as the Old Masters did and believes that to render the essence of life in portrait drawing, one must continue to pursue the old ways. This philosophy and methodology relies on a holistic approach to observation, analysis and critical-thinking honed through time and patience.


   • Start with a solid foundation - Classical bust drawing is a must. These lessons aid in constructing volume in your drawing and introduce concepts of structure.
   • Move on to sketching - The best way to train your observation skills. Anatomy, value and state of mind are the focus of these lessons.
   • 12 step-by-step tutorials put it all together - Form and spirit combine along with more clearly defined details to bring life and dimension to your portraits.
   • An extensive gallery of beautifully and classically executed portraits, figures, sketches and busts serves as inspiration.
Praise For…
---
"Mau-Kun Yim's deep love of drawing and his passion for teaching its core skills are in evidence in this handsome and authoritative text. Focusing on the philosophy and methodology of the Old Masters, this is a rigorous guide to honing skills in observation, analysis and critical-thinking. [...] if you're serious about developing an understanding of the fundamentals of drawing, this is a book sure to inspire." --Artists & Illustrators, August 2017

"Lessons in Masterful Portrait Drawing is arguably one of the most comprehensive, accessible and informative reference works on head drawing. It is a must for every artist's collection, especially those seeking a clear foundation in freehand drawing from life, without the use of optical aids. [...] I count this as one of the most solid instructional foundations that can lead an artist, whatever their ability, toward the path of mastery in both drawing and painting." --Charles Miano, Artist, Founder, Director Southern Atelier

"Yim's step by step drawings are extremely valuable visual guides. His words impart detailed instructions about technique, and the philosophies and tenets of classical portrait drawing from Yim's perspective as an accomplished artist and teacher. [...] His drawings beautifully reveal an artist who is comprehensively engaged with capturing the essence of character from his subjects..." --Lien Truong, Assistant Professor of art, The University of North Carolina at Chapel Hill

"Those of us who have been familiar with the work of Yim Mau Kun since the publication of the 341 page Drawings of Yim Mau Kun, have been waiting for an English version. It was well worth the wait! This new English edition--140 pages with 180 illustrations, 61 of which are full page--is a welcome addition to the library of any artist, art student, art teacher, art historian, connoisseur or amateur lover of good drawing. [...] This book will give you direction in advancing your observational skills and guide you in mastering vine or compressed charcoal or graphite. This book is simply a 'must have' for any artist or art student." --Jim Smyth, Professor of Drawing, College of San Mateo, Professor of Drawing, Cogswell College