Food as a Human Right: Combatting Global Hunger and Forging a Path to Food Sovereignty (Praeger Security International) (Hardcover)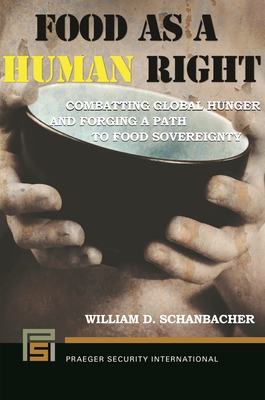 Description
---
Food sovereignty--the right of peoples to define their own chosen food and agriculture, free of monopolization or threats--is the path to stopping global hunger. This book approaches the topic from a solutions-based perspective, discussing concrete policy providing for sovereignty, or control, of one's own food sources as a solution that, while controversial, offers more promise than do the actions of international organizations and trade agreements. Providing access to safe, healthy food is an ethical responsibility of the world's nations, not just a right of the elite or wealthy.
This book presses the need to formulate policies that address the problems of poverty and hunger on a more humane and meaningful level. Organized thematically, chapters are based on such topics as food security, food sovereignty, human rights, and sustainability that focus on the global food system. Specific case studies provide examples of global hunger and poverty issues. Taken in its entirety, the book informs readers of how their food consumption might negatively affect the global poor, while its concluding chapters offer solutions for alleviating problems in the global food system.
About the Author
---
William D. Schanbacher, PhD, is professor of religious studies at the University of South Florida, in Tampa. He is author of The Politics of Food: The Global Conflict between Food Security and Food Sovereignty.