Wild Words from Wild Women 2018 Day-to-Day Calendar (Calendar)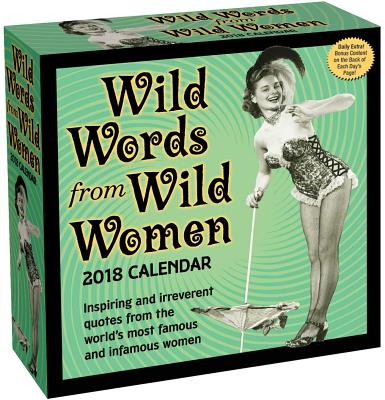 $14.99
Special Order - may be out of print
Description
---
Each page of this calendar offers a wildly witty quote on everything from careers to cooking, fashion to feminism, and sex to shopping from the most famous and infamous women of the past and present.

 

Featuring quotes from such fascinating and accomplished women as Ada Lovelace, Melinda Gates, Tina Fey, Gloria Steinhem, Serena Williams, Lady Gaga, Sonia Sotomayor, and more, the Wild Words for Wild Women 2018 Day-to-Day Calendar is sometimes thought-provoking, occasionally shocking, and often laugh-out-loud funny. Wild Words has something for every woman who's not afraid to speak her mind.

As an added bonus, the back of each page includes daily extra content such as puzzles, jokes, lists, quotes, activities, tips, and trivia.
 
About the Author
---
Autumn Stephens is the author of the several books in the Wild Women series and editor of two anthologies of women's first-person essays, The Secret Lives of Lawfully Wedded Wives and Roar Softly and Carry a Great Lipstick. Her essays and reporting have appeared in The New York Times, the San Francisco Chronicle, and numerous other publications. Autumn teaches private writing classes and workshops in the San Francisco Bay Area, and her passions include solving the world's problems over coffee and reading in bed. She agrees with Lily Tomlin that "things are going to get a lot worse before they get worse."