In One Person: A Novel (Paperback)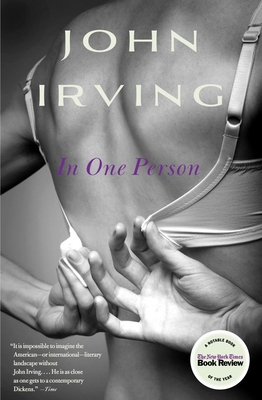 Staff Reviews
---
You're kidding, right?! A coming of age story from John Irving. We know the story will be unusual and audacious, and the characters will be peculiar and quirky. While some aspects of Irving are familiar - prep school, wrestling, Vermont - we are taking this trip to the unfamiliar and courageous territory of gender identity and preference. Irving does not allow for indifference in either his characters or his readers. He challenges us to consider all our sexual possibilities. In return, we get a great story.
~Dana
— From
Dana
May 2012 Indie Next List
---
"As the beguiling Miss Frost puts it in this modern masterpiece of gender politics, 'My dear boy, please don't put a label on me -- don't make me a category before you get to know me!' There is no writer, living or dead, who better humanizes the quirky, the misunderstood, the 'different' than John Irving. Here, through his bisexual protagonist, Billy, he tenderly explores the way American attitudes toward sexuality have -- and have not -- evolved in the past half-century. A heartbreaking, hopeful, complicated, and gorgeous story, In One Person is a must-read."
— Libby Cowels, Maria's Bookshop, Durango, CO
Description
---
From the author of A Prayer for Owen Meany and The World According to Garp comes "his most daringly political, sexually transgressive, and moving novel in well over a decade" (Vanity Fair).

A New York Times bestselling novel of desire, secrecy, and sexual identity, In One Person is a story of unfulfilled love—tormented, funny, and affecting—and an impassioned embrace of our sexual differences. Billy, the bisexual narrator and main character of In One Person, tells the tragicomic story (lasting more than half a century) of his life as a "sexual suspect," a phrase first used by John Irving in 1978 in his landmark novel of "terminal cases," The World According to Garp.

In One Person is a poignant tribute to Billy's friends and lovers—a theatrical cast of characters who defy category and convention. Not least, In One Person is an intimate and unforgettable portrait of the solitariness of a bisexual man who is dedicated to making himself "worthwhile."
About the Author
---
John Irving was born in Exeter, New Hampshire, in 1942. His first novel, Setting Free the Bears, was published in 1968, when he was twenty-six. He competed as a wrestler for twenty years, and coached wrestling until he was forty-seven. He is a member of the National Wrestling Hall of Fame in Stillwater, Oklahoma. In 1980, Mr. Irving won a National Book Award for his novel The World According to Garp. In 2000, he won the Oscar for Best Adapted Screenplay for The Cider House Rules. In 2013, he won a Lambda Literary Award for his novel In One Person. Internationally renowned, his novels have been translated into almost forty languages. His all-time bestselling novel, in every language, is A Prayer for Owen Meany. A dual citizen of the United States and Canada, John Irving lives in Toronto.
Praise For…
---
"In One Person gives a lot. It's funny, as you would expect. It's risky in what it exposes.…Tolerance, in a John Irving novel, is not about anything goes. It's what happens when we face our own desires honestly, whether we act on them or not."
— Jeanette Winterson

"It is impossible to imagine the American – or international – literary landscape without John Irving….He has sold tens of millions of copies of his books, books that have earned descriptions like epic and extraordinary and controversial and sexually brave. And yet, unlike so many writers in the contemporary canon, he manages to write books that are both critically acclaimed and beloved for their sheer readability. He is as close as one gets to a contemporary Dickens in the scope of his celebrity and the level of his achievement." —Time

"There's a talent at work in this brave new novel that — as Prospero said — 'frees all faults.' "
— The Washington Post