MacArthur's War: The Flawed Genius Who Challenged the American Political System (Compact Disc)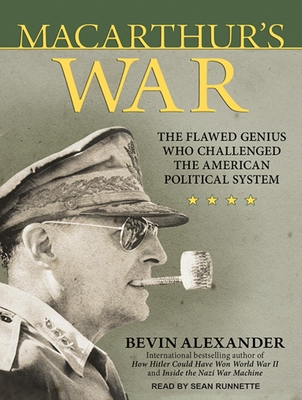 $34.99
Special Order - may be out of print
Description
---
Douglas MacArthur famously said there is no substitute for victory . . . As a United States general, he had an unparalleled genius for military strategy, and it was under his leadership that Japan was rebuilt into a democratic ally after World War II. But MacArthur carried out his zero-sum philosophy both on and off the battlefield. During the Korean War, in defiance of President Harry S. Truman and the Joint Chiefs of Staff, he pushed for an aggressive confrontation with Communist China-a position intended to provoke a wider war, regardless of the cost or consequences. MacArthur's ambition to stamp out Communism across the globe was in direct opposition to President Truman, who was much more concerned with containing the Soviet Union than confronting Red China. The infamous clash between the two leaders was not only an epic turning point in history, but the ultimate struggle between civil and military power in the United States. While other U.S. generals have challenged presidential authority-from Zachary Taylor in the Mexican War and George B. McClellan in the Civil War to General Stanley A. McChrystal in Afghanistan-no other military leader has ever so brazenly attempted to dictate national policy. In MacArthur's War, Bevin Alexander details MacArthur's military and political battles, from the alliances he made with Republican leaders to the threatening ultimatum he delivered to China against orders-the action that directly led to his dismissal on April 11, 1951.
About the Author
---
Bevin Alexander is the award-winning author of numerous works of military history, including "How Great Generals Win," "How Wars Are Won," and "How Hitler Could Have Won World War II."

Sean Runnette, a multiple "AudioFile" Earphones Award winner, has produced several Audie Award-winning audiobooks. He is a member of the American Repertory Theater company, and his television and film appearances include "Two If by Sea," "Copland," "Sex and the City," "Law & Order," and "Third Watch."