US Standard-type Battleships 1941–45 (2): Tennessee, Colorado and Unbuilt Classes (New Vanguard) (Paperback)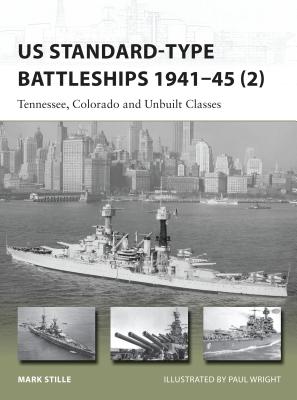 $19.00

Special Order - may be out of print
Other Books in Series
This is book number 229 in the New Vanguard series.
Description
---
This book completes an authoritative two-part study on the Standard-type US battleships of World War II - ships that were designed to fight a different type of war than the one that unfolded. It gives precise technical details of the design history and features of the Tennessee, Colorado and the unfinished South Dakota and Lexington classes, whilst providing an operational history of the former two. Much like the earlier classes, these ships' design adhered to consistent levels of performance to simplify battle-line operations, but they still incorporated evolutions of technology to match the latest Japanese types for the predicted decisive fleet engagements. In the end it was clear that war at sea would no longer see dreadnoughts slugging it out in open water, and these battleships were mostly utilized for fire support in US amphibious landings in the Pacific. Written by a leading expert on the US Navy in World War II and augmented by contemporary photographs and specially commissioned illustrations, this is the other half of the story of the US Standard-type battleships - from the terrible damage they sustained at Pearl Harbor, to their support of the war-winning landings of the US Marine Corps and US Army.
About the Author
---
Mark Stille (Commander, United States Navy, retired) received his BA in History from the University of Maryland and also holds an MA from the Naval War College. He recently concluded a nearly 40-year career in the intelligence community, including tours on the faculty of the Naval War College, on the Joint Staff and on US Navy ships. He is the author of numerous Osprey titles focusing on naval history in the Pacific.

Paul Wright has painted ships of all kinds for most of his career, specializing in steel and steam warships from the late 19th century to the present day. Paul's art has illustrated the works of Patrick O'Brian, Dudley Pope and C.S. Forester amongst others, and hangs in many corporate and private collections all over the world. A Member of the Royal Society of Marine Artists, Paul lives and works in Surrey.