American Knights: The Untold Story of the Men of the Legendary 601st Tank Destroyer Battalion (Paperback)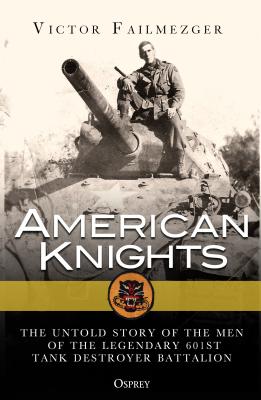 $16.00
Special Order - may be out of print
Description
---
As the war began to swing in the favor of the Allies, it became clear that no final defeat of the Third Reich would be possible until the armored monsters of the Panzerwaffe were defeated. But who would, or even could, take on the mighty Tigers and Panthers, just a handful of which could stop entire formations in their tracks? The answer lay with the formation of a new type of unit, the Tank Destroyer Battalion.

This is the story of the men and machines that made up the very first Tank Destroyer Battalion, the 601st, from their unique training and formation, to the final, desperate battles in the heart of Nazi Germany.

Packed with rare material, letters, diaries, and photographs, this is an intense and intimate chronicle of the men who fought the Panzers in an astonishing 10 campaigns and 546 days of lethal combat.
About the Author
---
Victor "Tory" Failmezger is a retired US Naval Officer and nephew of Lieutenant Thomas Peter Welch of the 601st Tank Destroyer Battalion, the discovery of whose wartime letters inspired this book. In the early 1970s Commander Failmezger was stationed at NATO in Naples, Italy and lived in an apartment overlooking the Bay of Pozzuoli where the 601st conducted practice landings for both the Anzio and Southern France landings. In the early 1980s he served as the Assistant Naval Attaché in Rome, Italy and was a participant in the celebration marking the 40th anniversary of the liberation of Rome. A later tour found him as the Director of the U.S. Navy Science and Technology Group, Europe in Munich, Germany. He is a graduate of the U.S. Foreign Service Institute (Italian) and the Defense Language Institute (German). After retirement he worked as a consultant in the private sector and for the US Department of Energy and NASA. His historical works include Roman Bronze Coins from Paganism to Christianity and Paget, Discoverer of Hades. He lives in Middleton, Virginia.
Praise For…
---
". . . a highly engaging work that is a valuable addition to World War II histories." - Army Magazine

"Highly recommended." - AMPS Indianapolis

"...really puts you in the middle of the action and the experiences they had during the war." - IPMS/USA

"The reader is treated to an effective blend of the author's prose and the words of the participants, making the work a pleasure to read and easy to follow." - WWII History Magazine