World War II US Marine Infantry Regiments (Elite) (Paperback)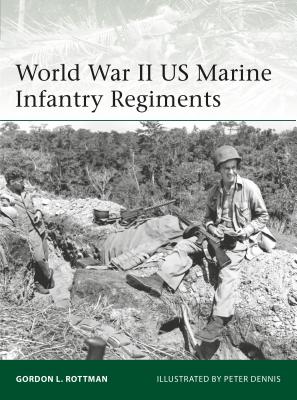 $19.00
Special Order - may be out of print
Description
---
The United States Marine Corps came into its own in the Pacific Islands campaign against Japan in World War II. From Guadalcanal to Okinawa, US Marines formed the tip of the spear as Allied forces sought to push the Japanese back to their Home Islands.
This fascinating study tracks the deployments of the various Marine divisions throughout the war and explains their composition, but also goes deeper, to detail the individual regiments--the focus of the Marines' identity and pride. It explains the organization of the Marine infantry regiment and its equipment, and how they developed during the war. The Marine infantryman's evolving uniforms, field equipment, and weapons are illustrated throughout using specially commissioned artwork and detailed descriptions to produce a fitting portrait of the US military's elite fighting force in the Pacific.
About the Author
---
Gordon L. Rottman entered the US Army in 1967, volunteered for Special Forces and completed training as a weapons specialist. He served in the 5th Special Forces Group in Vietnam in 1969–70 and subsequently in airborne infantry, long-range patrol and intelligence assignments until retiring after 26 years. He was a Special Operations Forces scenario writer at the Joint Readiness Training Center for 12 years and is now a freelance writer, living in Texas.

Peter Dennis was born in 1950. Inspired by contemporary magazines such as Look and Learn he studied illustration at Liverpool Art College. Peter has since contributed to hundreds of books, predominantly on historical subjects, including many Osprey titles. A keen wargamer and modelmaker, he is based in Nottinghamshire, UK.
Praise For…
---
"...presents a brief but thorough description of the organization and use of the most successful amphibious warfare specialists during the war in the Pacific, as well as background on their formation and history." - IPMS / USA