The History of the Panzerjäger: Volume 2: From Stalingrad to Berlin 1943–45 (Hardcover)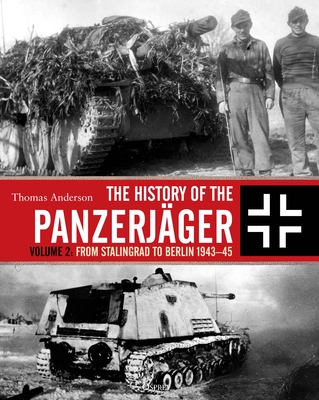 $40.00
usually available in 5-10 days
Description
---
From the War in the Desert through the vast expanses of the Eastern Front to the bitter defense of the Reich itself, this second volume continues the history of Germany's innovative anti-tank force: the Panzerjäger.

The German Panzerjäger, or Panzerjägertruppe, was one of the most innovative fighting arms of World War II and its story has never properly been told, until now. Many books have focused on an element of the story--the Hetzer, Jagdpanzer, and Jagdpanther--but this two-volume series represents the first time that the whole history of the development and organization of Nazi Germany's anti-tank force has been revealed.

This second volume takes up the story in the mid-war years and follows the development of the Panzerjäger, describing the innovative new vehicles such as the Ferdinand, Elefant and Nashorn. German Armored Fighting Vehicle specialist Thomas Anderson also analyzes the key role it performed in the War in the Desert and across the Eastern Front, and ultimately in the defense of the Reich itself. Packed with previously unpublished wartime photographs, combat reports, and detailed charts and statistics, this book offers an unparalleled account of this unique arm of the Wehrmacht.
About the Author
---
A German national, Thomas Anderson is a specialist in the German Armored Fighting Vehicles of World War II. He has spent decades trawling through archives throughout Germany and the rest of Europe to discover little-known facts and never previously published photographs of the might of the Blitzkrieg. A modeler himself, he regularly contributes to popular modeling and historical magazines across the globe including Military Modelcraft International (UK), Steel Art (Italy), Historia Militar (Spain), and Batailles & Blindes (France) as well as many others. He lives in Lower Saxony, Germany.