US Navy Destroyer Escorts of World War II (New Vanguard) (Paperback)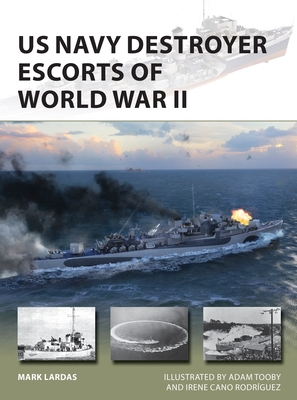 $19.00

Special Order - may be out of print
Description
---
A history of America's small but gallant World War II warships, which were at the forefront of the battle against U-boats and kamikazes, and fought some of the most dramatic actions of the war.

The Destroyer Escort was the smallest ocean-going escort built for the United States Navy--a downsized destroyer with less speed, fewer guns, and fewer torpedoes than its big brother, The Fleet Destroyer. Destroyer escorts first went into production because the Royal Navy needed an escort warship which was larger than a corvette, but which could be built faster than a destroyer. Lacking the shipyards to build these types of ships in Britain, they ordered them in the US. Once the US unexpectedly entered World War II, its navy suddenly also needed more escort warships, even warships less capable than destroyers, and the destroyer escort was reluctantly picked to fill the gap.

Despite the Navy's initial reservations, these ships did yeoman service during World War II, fighting in both the Atlantic and Pacific, taking on both U-boat and Japanese submarines and serving as the early warning pickets against kamikazes later in the war. They also participated in such dramatic actions as the Battle off Samar (where a group of destroyers and destroyer escorts fought Japanese battleships and cruisers to protect the escort carriers they were shielding) and the capture of the U-505 (the only major naval vessel captured at sea by the US Navy). The destroyer escorts soldiered on after World War II in both the United States Navy and a large number of navies throughout the world, with several serving into the 21st century. This book tells the full story of these plucky ships, from their design and development to their service around the world, complete with stunning illustrations and contemporary photographs.
About the Author
---
Mark Lardas holds a degree in Naval Architecture and Marine Engineering, but spent his early career at the Johnson Space Center doing Space Shuttle structural analysis, and space navigation. An amateur historian and a long-time ship modeler, Mark Lardas currently lives and works in League City, Texas. He has written extensively about modeling as well as naval, maritime, and military history.

Adam Tooby is an internationally renowned digital artist and illustrator. His work can be found in publications worldwide and as box art for model aircraft kits. He also runs a successful illustration studio and aviation prints business. He is based in Cheshire, UK. To buy artwork, or contact the artist, visit http://www.adamtooby.com/.

Irene Cano Rodríguez (known as Araire) is a freelance artist working and living in Spain. Since 2014, she has worked as a specialized historical illustrator, recreating historical scenes for museums, studios, editorials and magazines. Nowadays she also combines her work as an illustrator with teaching archaeological illustration.