Italian Destroyers of World War II (New Vanguard) (Paperback)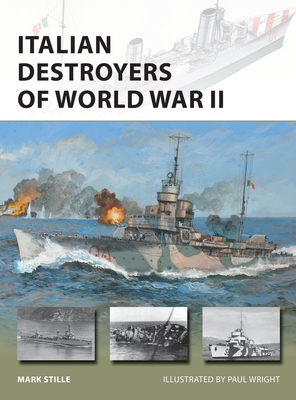 $19.00
usually available in 3-7 days
Description
---
A new illustrated history and analysis of Italy's World War II destroyers.

The Italian Royal Navy (Regia Marine or RM) began the Second World War with one of the largest fleets in the world. Included in this was a total of 59 fleet destroyers, and others were added during the war. These were a diverse collection of ships dating back to the First World War, large destroyers built to counter ships of similar size being introduced in the French Navy (the RM's historical enemy), and medium-sized ships which constituted the bulk of the destroyer force. RM destroyers were built for high speed, not endurance since they were only expected to operate inside the Mediterranean. They were also well-armed, but lacked radar.

During the war, RM destroyers fought well. With the exception of a small force based in Abyssinia which fought a series of battles in the Red Sea against the British, RM destroyers were active in the Mediterranean. The primary mission of the RM curing the war was to keep the supply lines to North Africa open. The Italians were largely successful in this effort, and destroyers were key in the effort. RM destroyers were present at every fleet action with the British Mediterranean Fleet.. The intensity of these actions were shown by the fact that the RM lost 51 destroyers during the war.
About the Author
---
Mark Stille (Commander, United States Navy, retired) received his BA in History from the University of Maryland and also holds an MA from the Naval War College. He recently concluded a nearly 40-year career in the intelligence community including tours on the faculty of the Naval War College, on the Joint Staff and on US Navy ships. He is the author of numerous Osprey titles focusing on naval history in the Pacific.

Paul Wright has painted ships of all kinds for most of his career, specializing in steel and steam warships from the late 19th century to the present day. Paul's art has illustrated the works of Patrick O'Brian, Dudley Pope and C.S. Forester amongst others, and hangs in many corporate and private collections all over the world. A Member of the Royal Society of Marine Artists, Paul lives and works in Surrey.