Making a Success of Brexit and Reforming the EU: The Brexit edition of The Trouble with Europe (Paperback)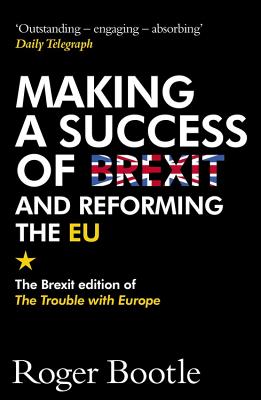 $19.95

Special Order - may be out of print
Description
---
How Brexit will work for Britain and EuropeFULLY REVISED EDITION FOR THE UK'S PATH TO BREXIT

Making a Success of Brexit and Reforming the EU is the authoritative text on the EU and the Brexit debate. This major new edition lays out how the UK can best make a success of Brexit and the place of Europe in the new, Trumpian world.

In a major rewrite, award-winning economist Roger Bootle addresses the issues of trading relationships, hard versus soft Brexit, concerns of key industries, Scotland and the future of the EU and NATO.

Roger Bootle, the author who successfully predicted the financial crash and the outcome of the referendum, will also examines the possible future developments of Europe.




About the Author
---
One of Britain's best-known economists, Roger Bootle runs Capital Economics, Europe's largest macroeconomics consultancy, which he founded. Roger appears frequently on television and radio and
is also a regular columnist for the Daily Telegraph. In the
Comment Awards 2012 he was named Economics Commentator of the year.

He is the author of widely acclaimed books including The Trouble with Markets, Money for Nothing and The Death of Inflation. Roger is also a Specialist Adviser to the House of Commons Treasury Committee. He was one of the previous Conservative government's "Wise Men." In July 2012, Roger won the prestigious Wolfson Economics Prize.

Praise For…
---
"I recommend our diplomats and ministers read this book: it will provide them with an intellectual backbone. This will be the essential vade mecum if and when a referendum campaign takes place. The part of Bootle's book in which he analyses the pros and cons of British exit from the EU will be the most influential."—The Sunday Times

"Maps out a fresh start for UK-EU relations. Bootle writes with energetic prose and makes some good points. His discussion of European monetary union is cogent."

—Financial Times

"Bootle is right on every count."

—The Guardian

"Roger Bootle perceptively analyses what is wrong with the European Union as presently constituted, both politically and economically; what reforms are needed to make it wise for the UK to remain a member; and how we can most sensibly conduct ourselves outside the EU, should those reforms not be undertaken. It is essential background reading for any future in/out referendum."

—Rt. Hon. Nigel Lawson, former Chancellor of the Exchequer