Who Loses, Who Wins: The Journals of Kenneth Rose: Volume Two 1979-2014 (Hardcover)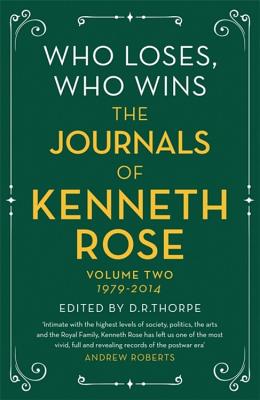 $38.99
usually available in 5-10 days
Description
---
Kenneth Rose was one of the most astute observers of the post-war Establishment. The wry and amusing journals of the royal biographer and historian made objective observation a sculpted craft.
His impeccable social placement located him within the beating heart of the national elite for decades. He was capable of writing substantial history, such as his priceless material on the abdication crisis from conversations with both the Duke of Windsor and the Queen Mother. Yet he maintained sufficient distance to achieve impartial documentation while working among political, clerical, military, literary and aristocratic circles. Relentless observation and a self-confessed difficulty 'to let a good story pass me by' made Rose a legendary social commentator, while his impressive breadth of interests was underpinned by tremendous respect for the subjects of his enquiry.
Brilliantly equipped as Rose was to witness, detail and report, the second volume of his journals vividly portrays some of the most important events and people of the last century, from the election of Margaret Thatcher as Prime Minister in 1979 to Kenneth Rose's death in 2014.
About the Author
---
Kenneth Rose was born in 1924. He was educated at Repton and was a scholar at New College, Oxford. He served in the Welsh Guards during the Second World War and was subsequently a schoolmaster at Eton, before working for the British Council in Rome and Naples. He joined the Daily Telegraph in 1951 and worked on the 'Peterborough' column before starting the long-running 'Albany at Large' column in the Sunday Telegraph in 1961. He published prize-winning biographies of Lord Curzon, King George V and Victor Rothschild, as well as acclaimed studies of the Victorian Prime Minister Lord Salisbury and his family in The Later Cecils. He died in 2014, writing his journals to the end.
D. R. Thorpe was born in 1943 and educated at Fettes and Selwyn College, Cambridge. He is a Fellow of the Royal Historical Society and a regular contributor to the Oxford Dictionary of National Biography. He has published five acclaimed biographical works, the most recent of which, Supermac: The Life of Harold Macmillan, won the Biennial Marsh Biography Award 2009-2010.
Praise For…
---
Addictive stuff. Each entry is only a few lines long; it's like reading an extremely good newspaper diary for page after page. If you're a newspaper addict like me - and a gossip addict, too, again like me - you'll love it. You feel as if you're tucking into an enormous box of chocolates, happily dropping down into infinite layers of new chocs below, without ever feeling sick.—CATHOLIC HERALD

Intimate with the highest levels of society, politics, the arts and the Royal Family, Kenneth Rose has left us one of the most vivid, full and revealing records of the postwar era—Andrew Roberts

Kenneth Rose provides a fascinating window on the establishment in the second volume of his gossipy, scandalous and insightful diaries,—CHOICE magazine

[Kenneth Rose] has written a historian's journal ... Nevertheless, Rose does cast a critical and acute eye over Vanity Fair ... this is how Kenneth wished to be remembered by the world: as a suave, amusing columnist and gifted historian who walked with the great—James Stourton, LITERARY REVIEW

[Kenneth Rose] has written a historian's journal ... Nevertheless, Rose does cast a critical and acute eye over Vanity Fair ... this is how Kenneth wished to be remembered by the world: as a suave, amusing columnist and gifted historian who walked with the great—LITERARY REVIEW