Superheroes Smash the Box Office: A Cinema History from the Serials to 21st Century Blockbusters (Paperback)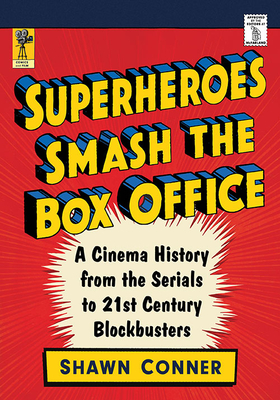 Description
---
In 1997, the superhero movie was all but dead. The last Superman flick had been released a decade earlier to disastrous reviews and ticket sales. The most recent Batman film was a franchise-killing bomb. And an oft-promised Spider-Man feature was grounded. Yet a mere five years later this once-derided genre would be well on its way to world domination at the box office and even critical respectability. How did this happen? And why, two decades later, does the phenomenon show no sign of abating?
Here, for the first time, is an extensively researched soup-to-nuts history of the superhero movie, from the first bargain-basement black-and-white serials to today's multiverse blockbusters. Chronicling eight decades of stops and starts, controversies and creators, good guys and bad guys--onscreen and off--this entertaining account explains how and why our entertainment universe came to be overpowered by costumed crimefighters and their nefarious counterparts.
About the Author
---
Shawn Conner is an arts and entertainment reporter living in Vancouver, British Columbia. His work has appeared in USA Today, Rolling Stone, and the Globe & Mail, among others.