Potterversity: Essays Exploring the World of Harry Potter (Paperback)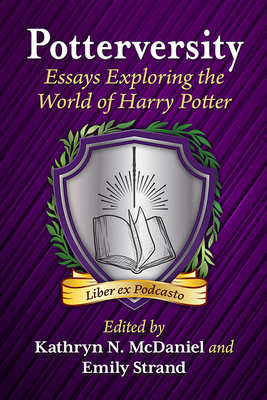 Description
---
Potterversity: Essays Exploring the World of Harry Potter presents a written companion to the popular, "Hermione-Approved" MuggleNet podcast by the same name. Selected from the top Potter Studies scholars in the field, the diverse authors in the volume provide a range of interpretations of wizarding world stories. Essays include analysis of genre conventions, literary and religious symbolism, the role of games in the series, pedagogical approaches, and politically challenging issues like U.S. race relations, colonialism, and gender and sexuality--including direct attention to J.K. Rowling's controversial statements about trans people.
Grouped into the sections "Occult Knowledge," "Ancient Magic," "A Question of Character," "Self and Other," "Playing Potter," and "Teaching, the Hogwarts Way," partnered essays precede transcripts of podcast conversations, led by the hosts of Potterversity. The book's essays and conversations aim to engage not only the mind but the spirit as well--the emotional, personal, and moral responses the Potterverse has evoked in so many people around the world. Fundamentally, this book demonstrates that the characters, stories, and situations of the magical realm promote thinking that helps us navigate our more mundane but no less dangerous world. Perhaps even more importantly, they help us to recognize the magic amid our everyday Muggle realities.
About the Author
---
Kathryn N. McDaniel is McCoy Professor of History at Marietta College in Marietta, Ohio, and specializes in intersections of history and popular culture. She co-hosts Potterversity: A Potter Studies Podcast. Emily Strand teaches comparative religion and cultural competence courses at Mt. Carmel College in Columbus, Ohio. She co-hosts the podcasts Potterversity and Meet Father Rivers.