All the Powers of Earth: The Political Life of Abraham Lincoln Vol. III, 1856-1860 (Hardcover)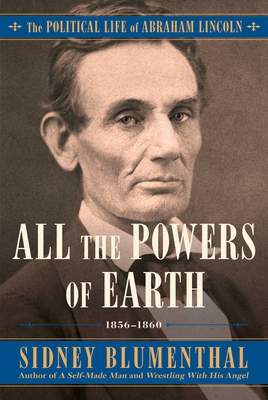 $35.00

Special Order - may be out of print
Other Books in Series
This is book number 3 in the The Political Life of Abraham Lincoln series.
Description
---
In All the Powers of Earth, Lincoln's incredible ascent to power in a world of chaos is newly revealed through the great biographer's extraordinary research and literary style.

After a period of depression that he would ever find his way to greatness, Lincoln takes on the most powerful demagogue in the country, Stephen Douglas, in the debates for a senate seat. He sidelines the frontrunner William Seward, a former governor and senator for New York, to cinch the new Republican Party's nomination.

All the Powers of Earth is the political story of all time. Lincoln achieves the presidency by force of strategy, of political savvy and determination. This is Abraham Lincoln, who indisputably becomes the greatest president and moral leader in the nation's history. But he must first build a new political party, brilliantly state the anti-slavery case and overcome shattering defeat to win the presidency. In the years of civil war to follow, he will show mightily that the nation was right to bet on him. He was its preserver, a politician of moral integrity.

All the Powers of Earth cements Sidney Blumenthal as the definitive Lincoln biographer.
About the Author
---
Sidney Blumenthal is the acclaimed author of A Self-Made Man and Wrestling with His Angel, the first two volumes in his five-volume biography, The Political Life of Abraham Lincoln. He is the former assistant and senior adviser to President Bill Clinton and senior adviser to Hillary Clinton. He has been a national staff reporter for The Washington Post and Washington editor and writer for The New Yorker. His books include the bestselling The Clinton Wars, The Rise of the Counter-Establishment, and The Permanent Campaign. Born and raised in Illinois, he lives in Washington, DC.
Praise For…
---
"[Blumenthal] continues to establish himself as the definitive chronicler of Lincoln's political career…as essential as any political biography is likely to be."—Kirkus, Starred Review

"Macro-history gives us a big picture, but politics, as "Hamilton" reminds us, happens in hidden rooms. Readers who seek the political micro-history can turn to Sidney Blumenthal's multivolume Lincoln biography, now in its third installment—All the Powers of the Earth—with two more promised. Written by someone who bears the battle scars of modern democratic politics, the volumes are all about Lincoln as a battle-scarred democratic politician....Blumenthal offers a vividly realized, slow crawl across the Convention floor by someone who has been there....Blumenthal's kind of intricate political history—providing all the details of how the sprockets and gears engage—feeds, in turn, the larger cultural perspective."—The New Yorker

"With painstaking research illuminated by penetrating insight, Blumenthal limns the ascent of the Great Emancipator in a turbulent era. The brilliance of this third volume of Blumenthal's projected five-volume biography will heighten expectations for the next installment."—Booklist, Starred Review

"Blumenthal speaks to our own time and, through Lincoln's life and work, asks us to consider what price expediency and ego cost democracy. Brilliant, compelling, and memorable."—Library Journal, Starred Review

"An entertaining, Wolf Hall–esque treatment that will please Blumenthal's fans and win new ones to this series."—Publishers Weekly

"Sidney Blumenthal's compelling, original and elegantly written exploration of Abraham Lincoln's life is advanced with this volume, which reveals the crucial and fascinating years in which Lincoln transforms himself into an indispensable national leader, poised to save his bleeding and broken country. Even more than its predecessors, Blumenthal's new book brilliantly illuminates qualities of leadership that are as important in our own time as they were during the tumultuous years that led to Civil War. This epic and path-breaking work deserves to be widely read and studied."—Michael Beschloss, bestselling author of Presidents of War

Praise for The Political Life of Abraham Lincoln

"Magisterial...A vividly written, wide-ranging and often surprising account of the president-to-be." —The New York Times Book Review

"Wrestling With His Angel is a raucous and epic voyage through the turbulent political waters of the age that made Abraham Lincoln. Completely mesmerizing, a deeply serious meditation with the keen sense of humor that Lincoln so famously had."—John Witt, author of the Lincoln's Code, winner of the Bancroft Prize

"[A]n astute account of Lincoln the politician whose apprenticeship in that profession was a necessary prelude to his greatness as a statesman in the Civil War. [T]his book offers new insights into Lincoln's life and career."—James McPherson, author of The War that Forged a Nation

"Blumenthal illuminates the path Lincoln hewed to greatness."—Allen Guelzo, author of Gettysburg, winner of the Lincoln Prize

"Sidney Blumenthal has rescued the Lincoln most Americans know only as an icon, and turned him back into a real human being, revealing a clever and adroit politician, a fixer of conventions, and a political operator whose ambitions are surpassed only by his searing moral vision."—Kai Bird, Pulitzer Prize-winning author of American Prometheus: The Triumph and Tragedy of J. Robert Oppenheimer