Accounts of China and India (Library of Arabic Literature #55) (Paperback)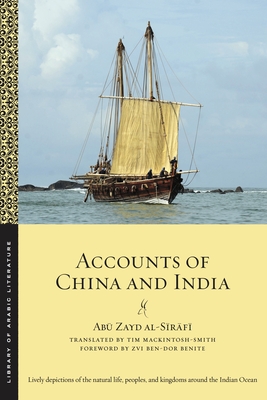 $15.00
usually available in 5-10 days
Other Books in Series
This is book number 55 in the Library of Arabic Literature series.
Description
---
The ninth and tenth centuries witnessed the establishment of a substantial network of maritime trade across the Indian Ocean, providing the real-life background to the Sinbad tales.
An exceptional exemplar of Arabic travel writing,
Accounts of China and India
is a compilation of reports and anecdotes about the lands and peoples of this diverse territory, from the Somali headlands of Africa to the far eastern shores of China and Korea. Traveling eastward, we discover a vivid human landscape-from Chinese society to Hindu religious practices-as well as a colorful range of natural wilderness-from flying fish to Tibetan musk-deer and Sri Lankan gems. The juxtaposed accounts create a kaleidoscope of a world not unlike our own, a world on the road to globalization. In its ports, we find a priceless cargo of information. Here are the first foreign descriptions of tea and porcelain, a panorama of unusual social practices, cannibal islands, and Indian holy men-a marvelous, mundane world, contained in the compass of a novella. An English-only edition.
About the Author
---
Abu Zayd al-Sirafi was a seafarer who moved from the Persian port-city of Siraf to Basra in 303/915-916. He wrote the second half of Accounts of China and India, supplementing an earlier section written by an unknown mariner and merchant fifty years earlier.