The Opposite of Loneliness: Essays and Stories (Compact Disc)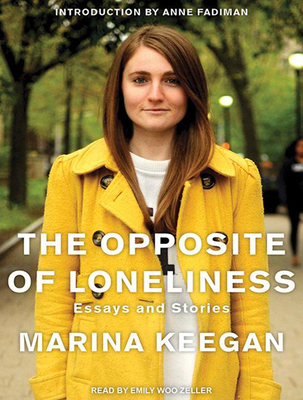 Staff Reviews
---
This book made me feel brazen enough to mark it up in pen – underlining memorable phrases, starring interesting sentence structure, and more. A professor of Keegan's, who stopped by the Concord Bookshop this past winter, told me Keegan would have been thrilled to hear I scribbled in someone else's margins. The Opposite of Loneliness is a collection of essays and short stories titled after Keegan's Yale graduation speech. The one she gave days before tragically dying in a car crash, prompting her family and friends to put this beautiful book out into the world. The pages are full of hope and triumph – a woman mastering the craft of writing. I recommend this to anyone looking for something touching, recent grads, and aspiring writers alike.
— Brynn
Description
---
Marina Keegan's star was on the rise when she graduated magna cum laude from Yale in May 2012. She had a play that was to be produced at the New York International Fringe Festival and a job waiting for her at the New Yorker. Tragically, five days after graduation, Marina died in a car crash. As her family, friends, and classmates, deep in grief, joined to create a memorial service for Marina, her unforgettable last essay for the Yale Daily News, "The Opposite of Loneliness," went viral, receiving more than 1.4 million hits. She had struck a chord. Even though she was just twenty-two when she died, Marina left behind a rich, expansive trove of prose that, like her title essay, captures the hope, uncertainty, and possibility of her generation. The Opposite of Loneliness is an assem-blage of Marina's essays and stories that, like The Last Lecture, articulates the universal struggle that all of us face as we figure out what we aspire to be and how we can harness our talents to make an impact on the world.
About the Author
---
Marina Keegan is the author of several essays and articles. She wrote for the "Yale Daily News" and co-wrote the musical "Independents." After she graduated from Yale University in May 2012, Marina was killed in a car crash on Cape Cod.

"AudioFile" Earphones Award winner Emily Woo Zeller has been described by "AudioFile" magazine as doing "an extraordinary job of varying the voices in the dialogue without losing the intimacy of the story." While she specializes in Asian American narratives, Emily's work spans a broad spectrum, including young adult fiction.